ACCRA, GHANA
Accra is huge. We only saw a small part of it and were only there 2 1/2 days. This is just a glimpse into the areas we visited.
_______________________________________
Near Osu and the guesthouse where we stayed our first night.
This is Osu street, but is also called Oxford St, because it is one of the main shopping streets in Accra.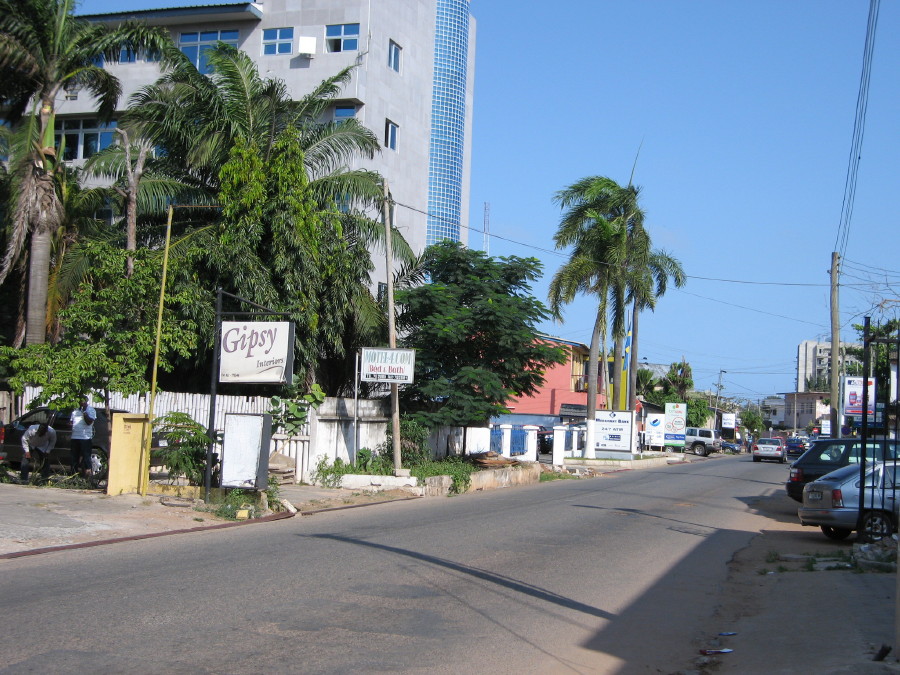 We were taken to Osu street in a taxi but then walked back to the guesthouse.
These are some of the pictures I took on the way.
We walked through a quiet residential area. It think this is actually a dead-end street near our hotel.
There were some very nice homes here behind the walls.
I think these fan-shaped palms are so unusual-looking.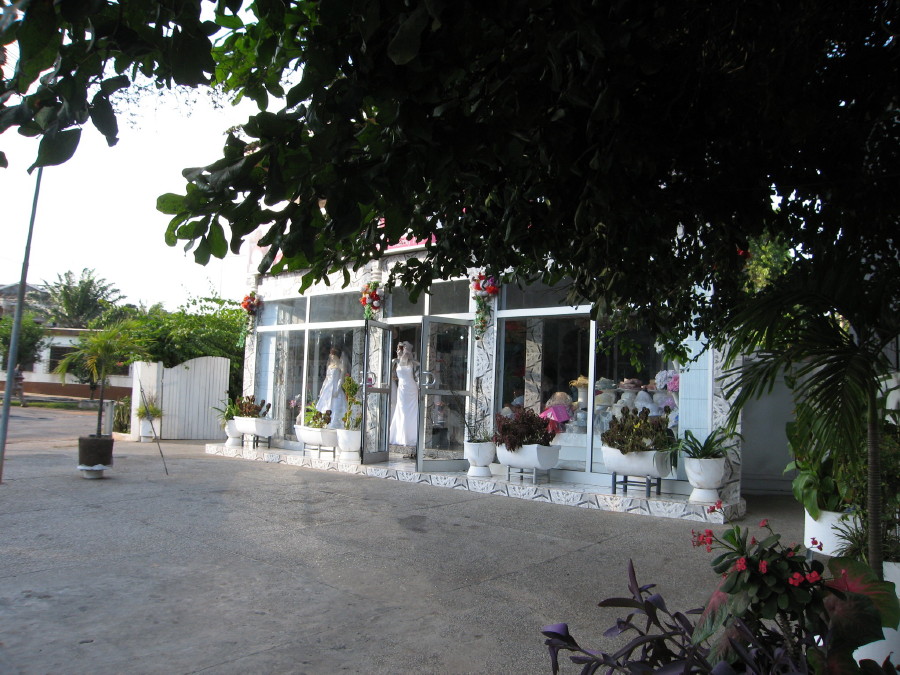 A bridal shop
This restaurant was right next to the guesthouse we were staying in, so we had dinner here that night. We walked by here twice without seeing where the restaurant actually was. The entrance is behind that black car at the end of the wall. The restaurant was under some kind of roof, but open otherwise to the outside. It was nice and we had some typical Ghanaian food here. Unfortunately by the time we went out to dinner it was too dark to get pictures in the restaurant.
___________________________________________________
Some pictures from near the Makolo Market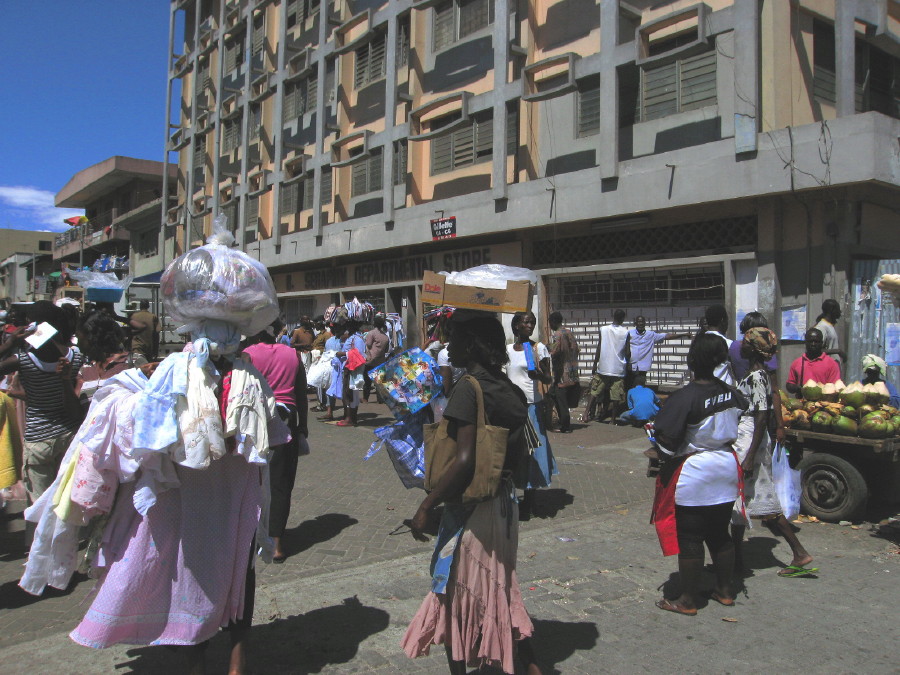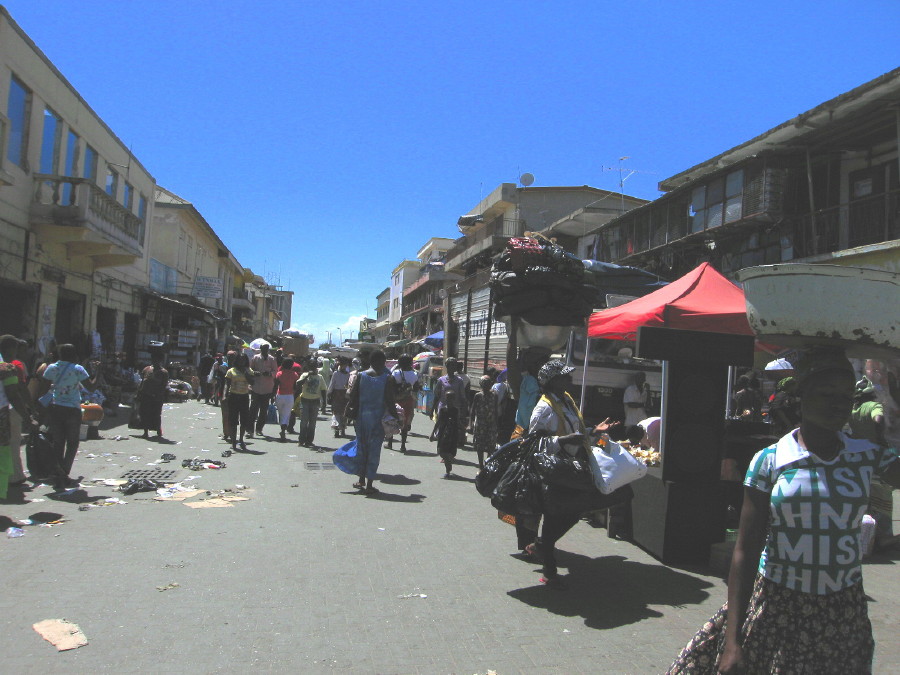 Can you see the load on the head of the woman just to the left of the red awning?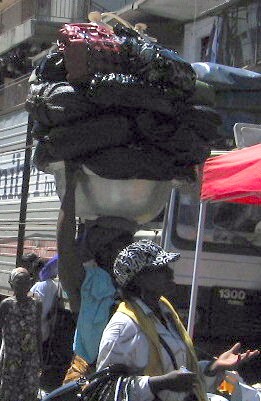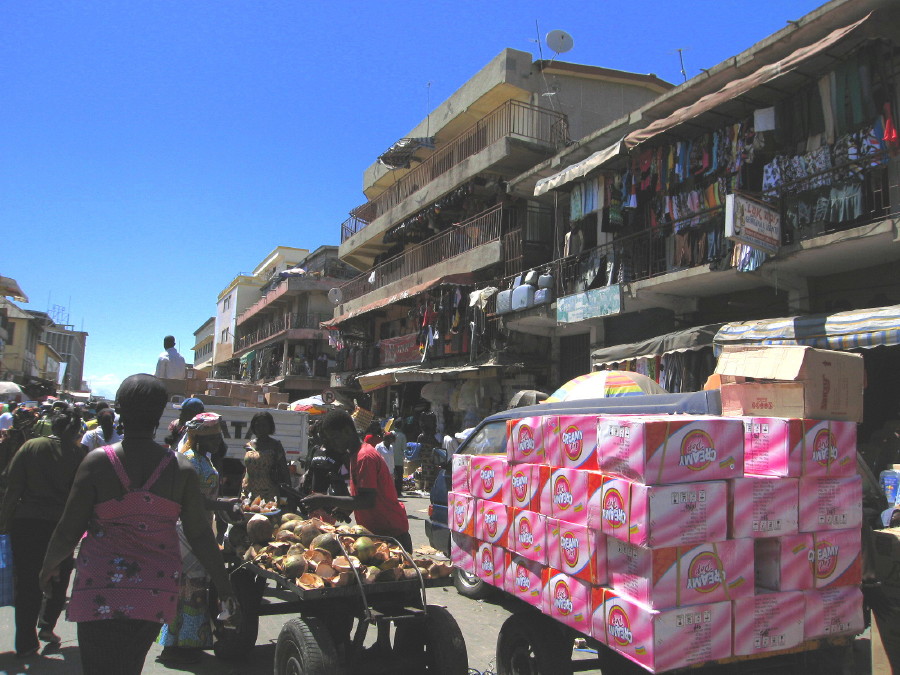 We saw many of these cocoanut carts.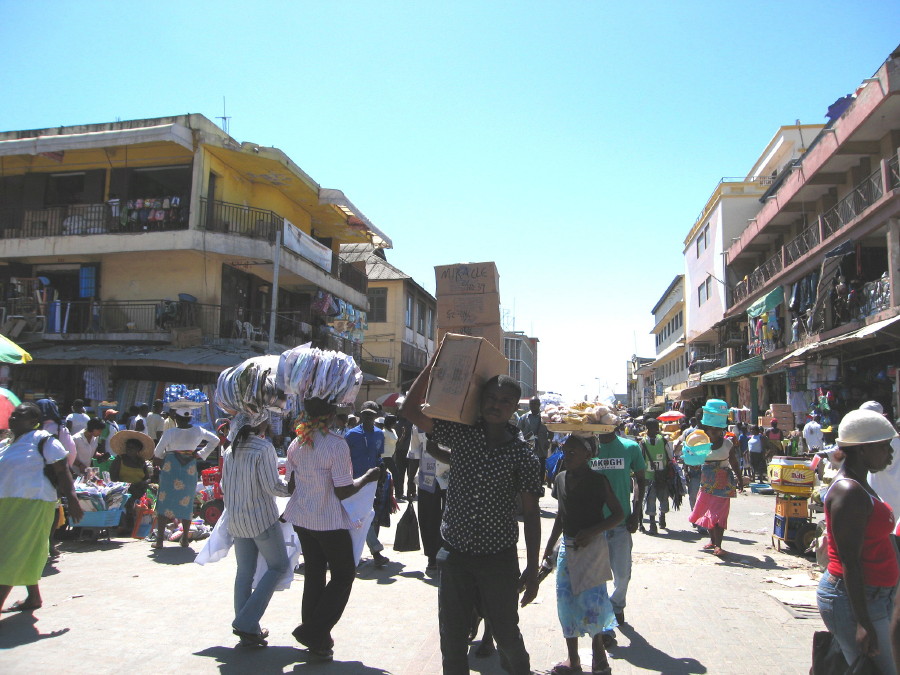 We sort of circled around the outside of this market, which is at least a city block or more.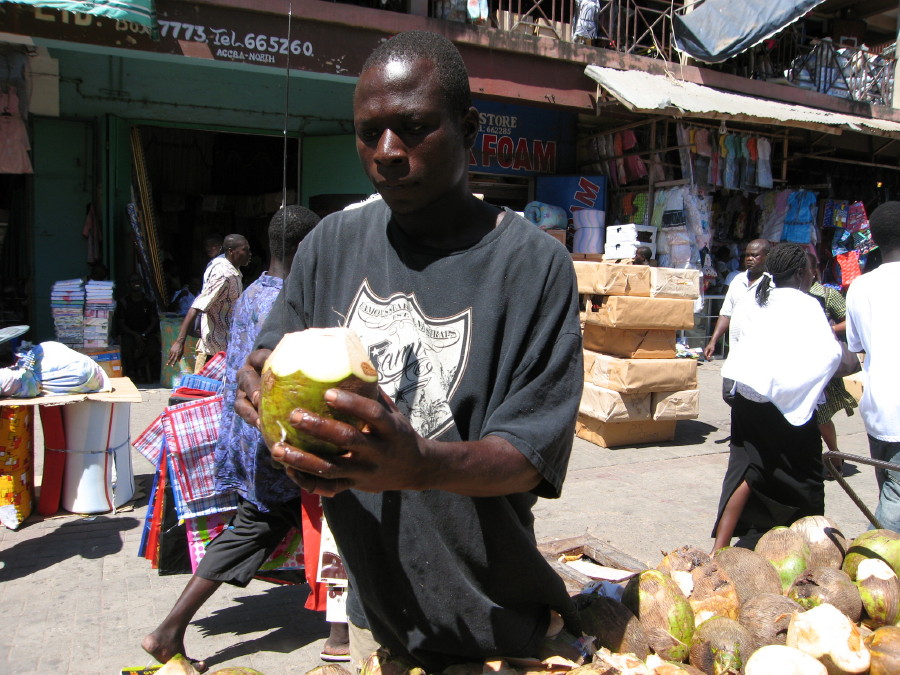 Our guide helped us get a taste of the fresh cocoanut. Here the vendor has cut off the top, so we could drink the juice.
_______________________________________________
Views from the top of the Lighthouse in Jamestown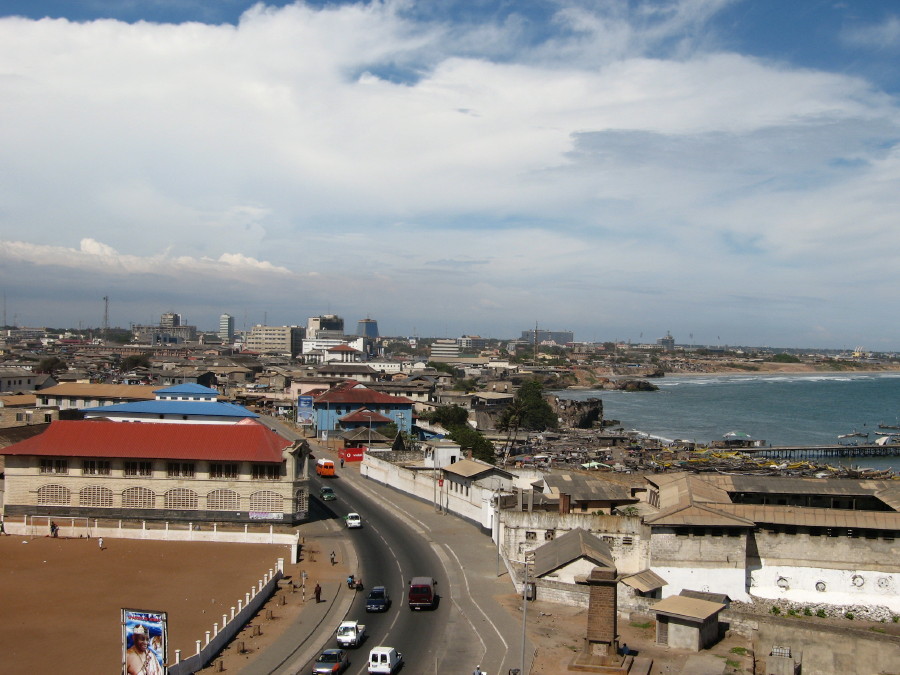 Our next stop was the Jamestown lighthouse. We climbed to the top and took pictures from there.
The blue building is the home of the King or Chief of this region of Ghana.
This little girl apparently lived below the lighthouse.
________________________________________________
The Kwame Nkrumah Mausoleum and park
Next we stopped at this mausoleum and museum about Ghana's first president, Kwame Nkrumah.
Nkrumah helped Ghana peacefully achieve independence from Great Britain in 1957 and became the country's first president.
A garden near the monument.
This boy in a Flyers' jersey was near the gate.
There was also a group of school children here.
In Ghana water is sold in plastic bags instead of bottles.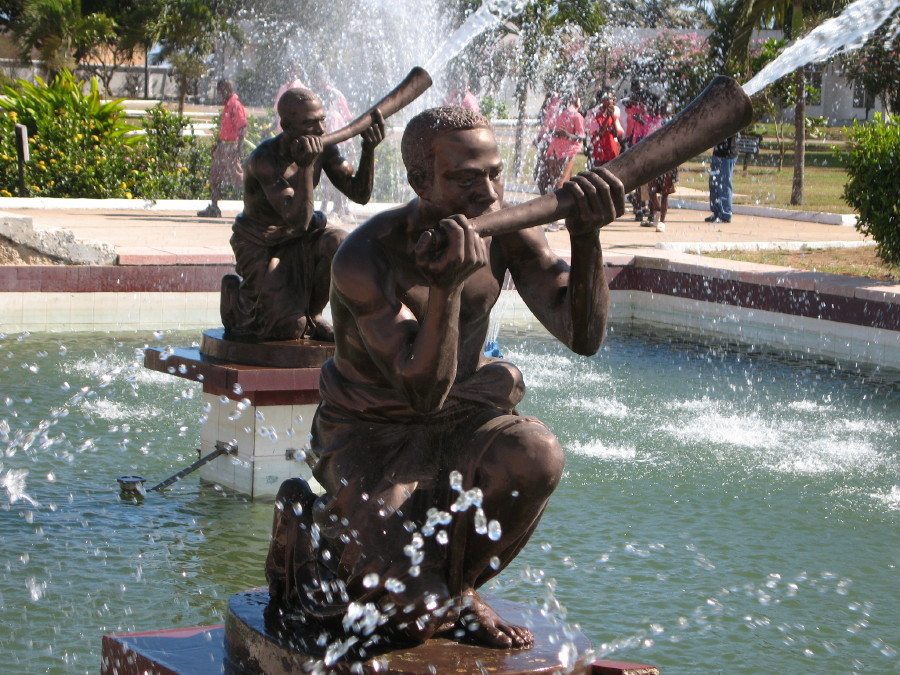 There were 7 of these bronze statues blowing traditional horns in the fountain.