Helsinki October 7 - 13, 2012
This was actually our second visit to Helsinki, but I think the first time we were just there one afternoon. On that trip we spent most of our time in Turku, but even there it was only 2 or 3 days. This time we spent a week in Helsinki. I did a lot of walking and rode on the trams and buses to get around. We were staying down town, so there were lots of restaurants and shops nearby.
This is the big Lutheran Church, which is Helsinki's most famous landmark. It's on top of a hill, which makes it visible from many other spots in the city.
This is what you see looking back down the steps--Senate Square. I ate breakfast one day in a restaurant on the right.
The harbor area is right in the center of town. We were there on a Sunday and saw a market with boats that had just brought in fresh fish. There were also pickled foods and other foods in jars and knitted hats, socks and mittens.
Here the boats selling things are on the left. They back up to the wharf and put up tarps against the weather. The boat in the background is a restaurant. It took me a while to realize the word "Ravintola" meant restaurant. I think Restaurant is spelled almost the same in most of the other languages I know, so I didn't think a word that looks so different might mean restaurant.
The Lutheran church is off to the left about 3 blocks. In the background, behind the boats you can just see the other famous landmark church in Helsinki--the Russian Orthodox church.
Here it is closer. It is on an island, but connected by bridges to the mainland and easy to walk to. It was completed in 1868.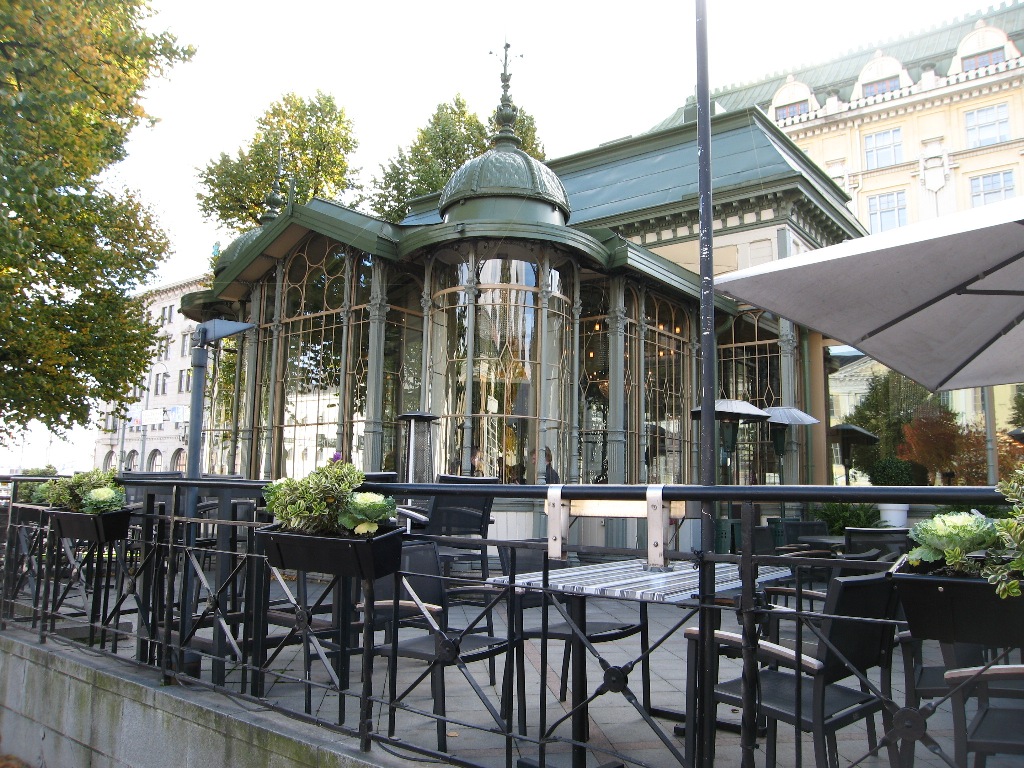 This is the famous Kappeli cafe on a corner of the big park near the town center and the harbor. We had coffee and a pastry here our first afternoon. It wasn't warm enough to sit outside this day. I'm sure it's absolutely wonderful in the summer time and also crowded.
This tower is part of the train station. We lived in St. Louis and were familiar with the name Eero Saarinen, who designed the St. Louis Arch, but we didn't know he had a father who was also a famous architect. This building is designed by his father, Eliel Saarinen. It was opened in 1919. The statue is Alexis Kivi, a poet or playwright I think.
We took a walk following a guided tour in a booklet we picked up at the tourist office. It took us around a large lake or maybe it's two lakes. Anyway we saw some interesting old wooden houses across the lake from the town center.
This is on the other side of the lake, looking back toward the wooden houses. You also see the domes of the Lutheran Church.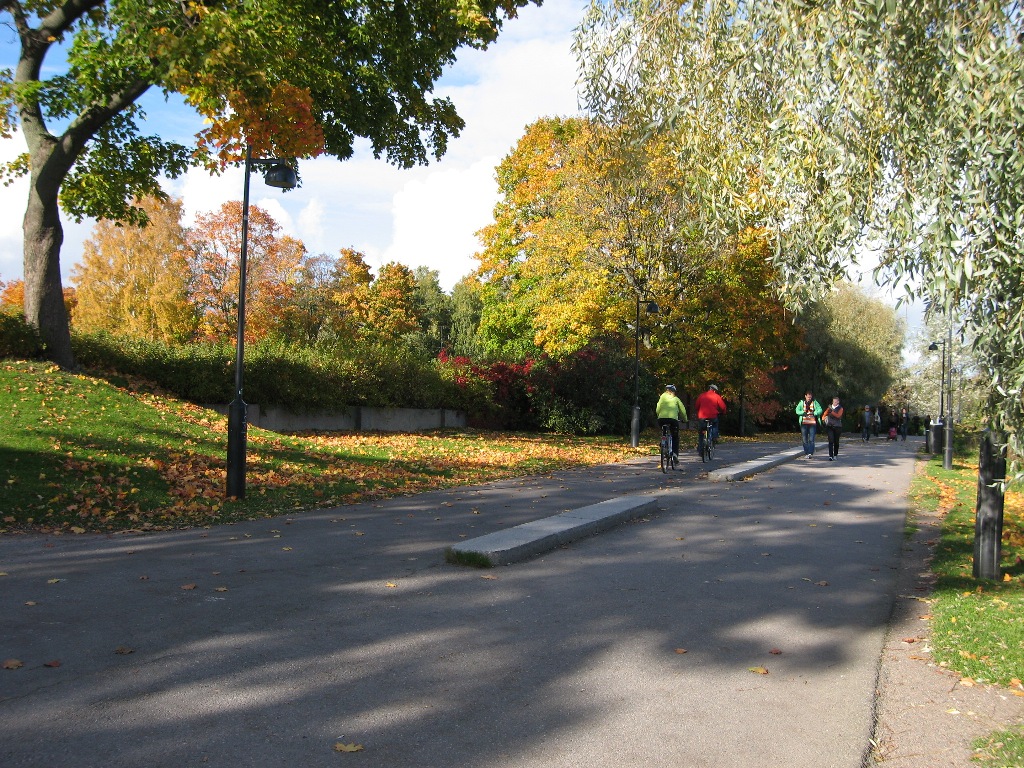 Part of our walk followed this walking/biking trail along the lakeshore.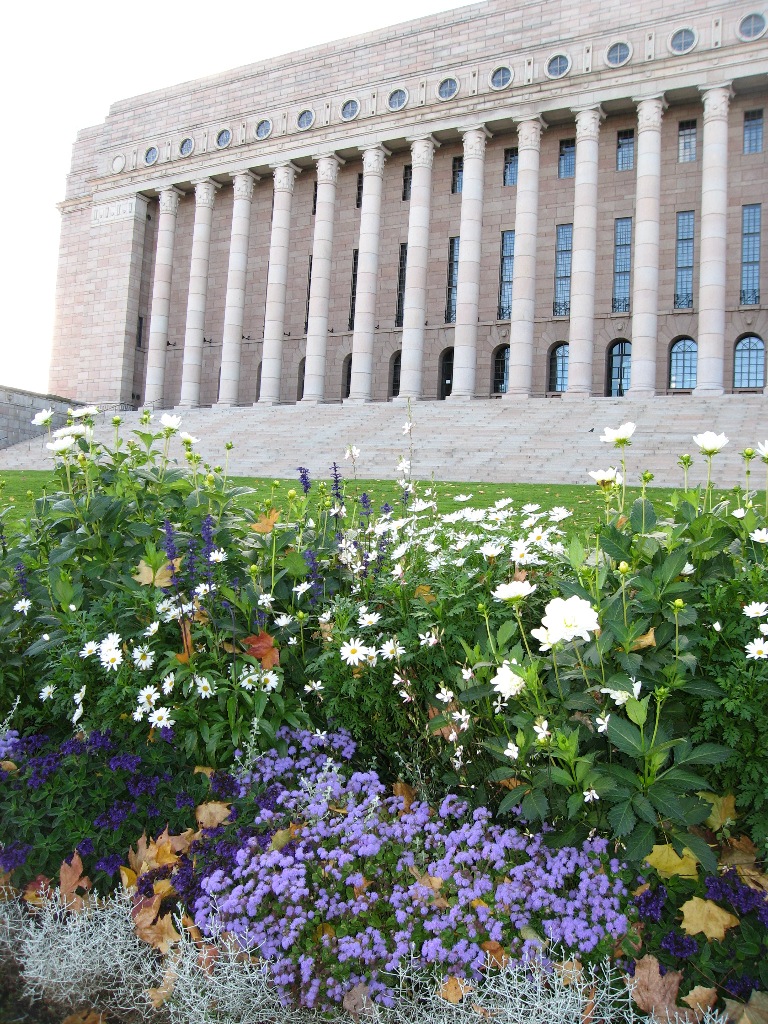 I think this is the Parliament building. Before we left these flowers had all been replaced with hardy winter flowers. They were also pretty, but I didn't get a photo of them. I think I just saw them from a bus or tram.
Another day I walked along the seashore.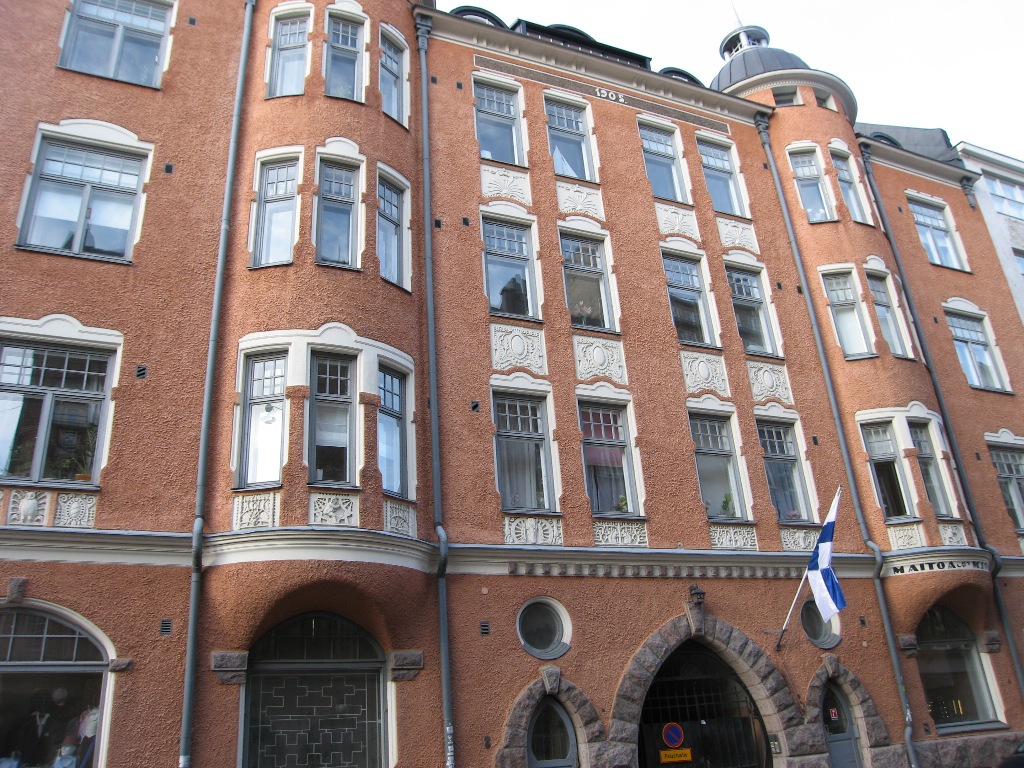 I believe this building was near our hotel. It is in the Jugend style, which I had never seen before, but which was quite popular in Helsinki around 1900. When I first saw it, I thought it must be Art Deco, but it predates Art Deco by at least 30 years. The date on this building is 1905.
I'm going to finish the page with these pictures of the Church in the Rock. This is the main entrance.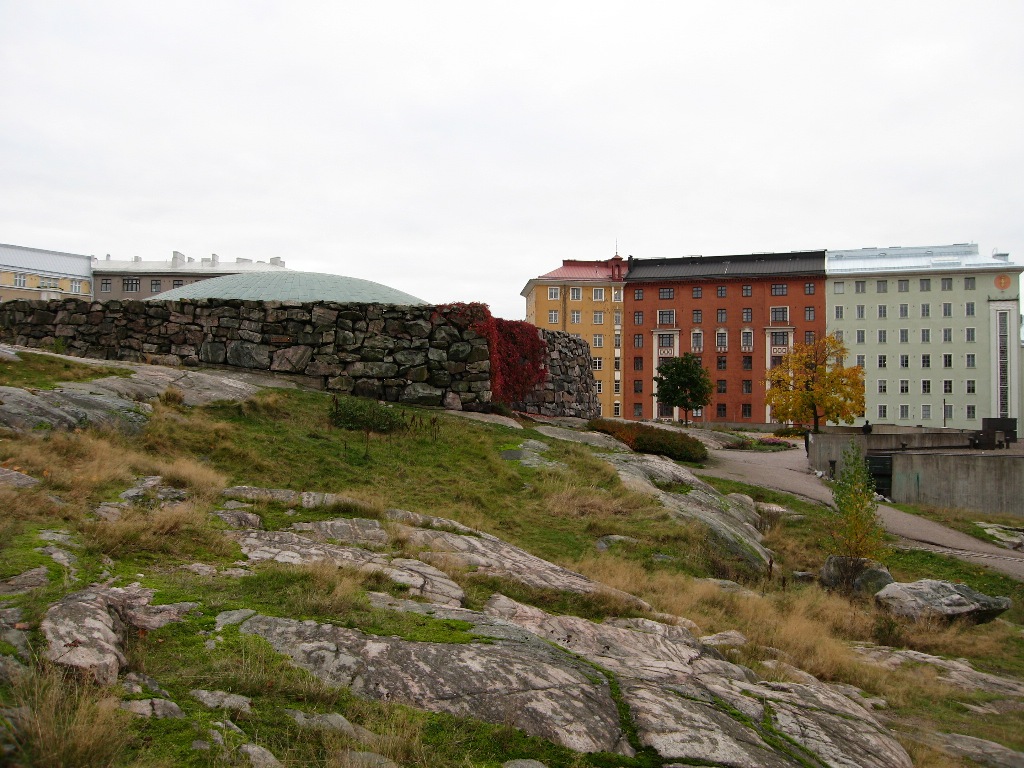 I was there about 15 minutes before it opened, so I walked around behind it. That's the skylight and upper wall.
Another shot showing the marvelous colors on this day.
And here is one of the interior. There was an Asian tour inside taking tons of pictures. Well, that's just some of the pictures I took, but probably enough for now.
We took a bus one day to Porvoo, Finland. I'll try to get those pictures on another page.