Walking in the Polish Mountains
Szklarka National Park
September 8, 2010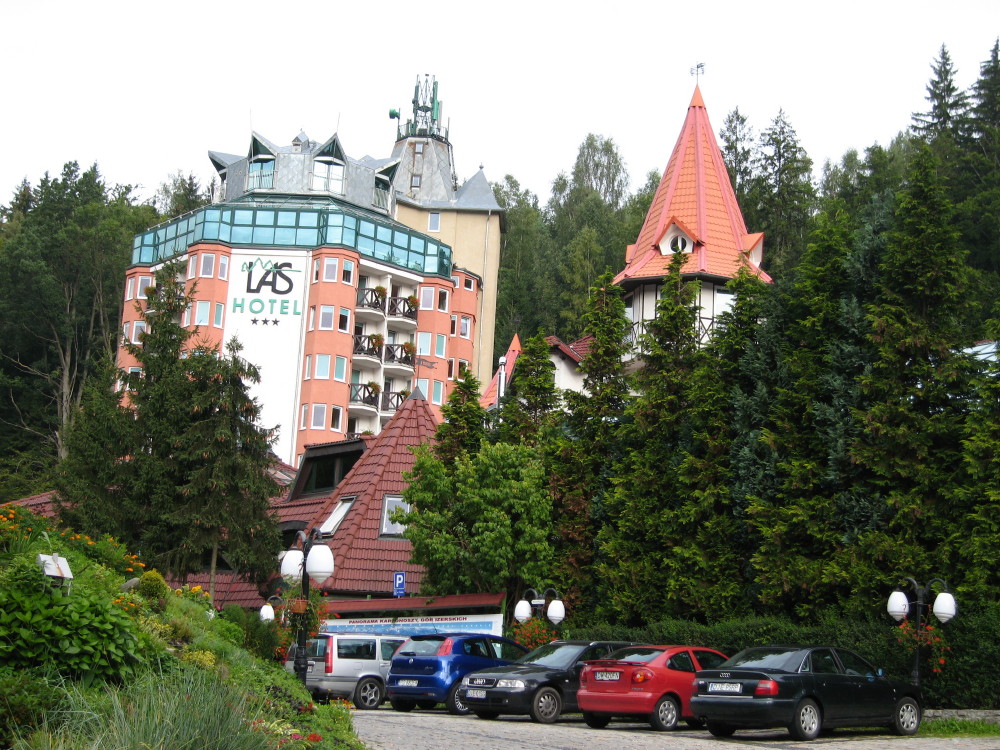 Jim attended a meeting held at this hotel in the mountains of Poland. I usually walk around the city where the meetings are held. This time I got to go hiking in the national park. Las is Polish for forest.
I first asked the man in an information booth at the hotel about trails. He didn't speak any English, so this was a chance for me to use my Polish. Unfortunately my Polish tapes didn't discuss hiking in the mountains, but he was patient and had a good map and some postcards, so I was able to understand some of what he said.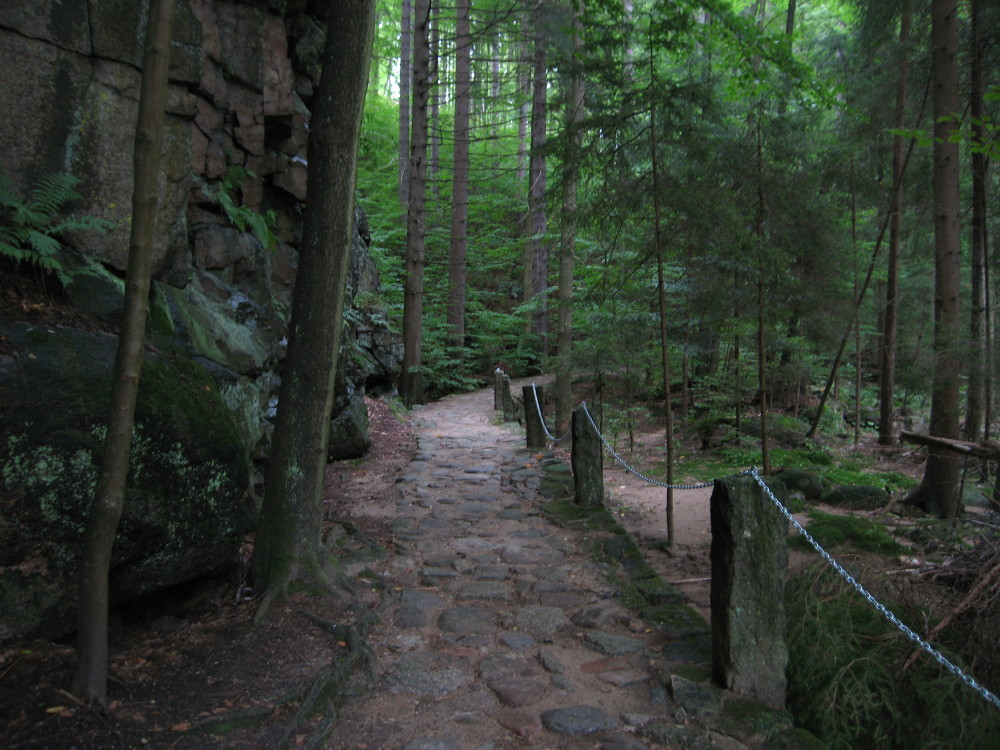 My first hike started out along a sort of paved trail,
which soon became a rougher trail.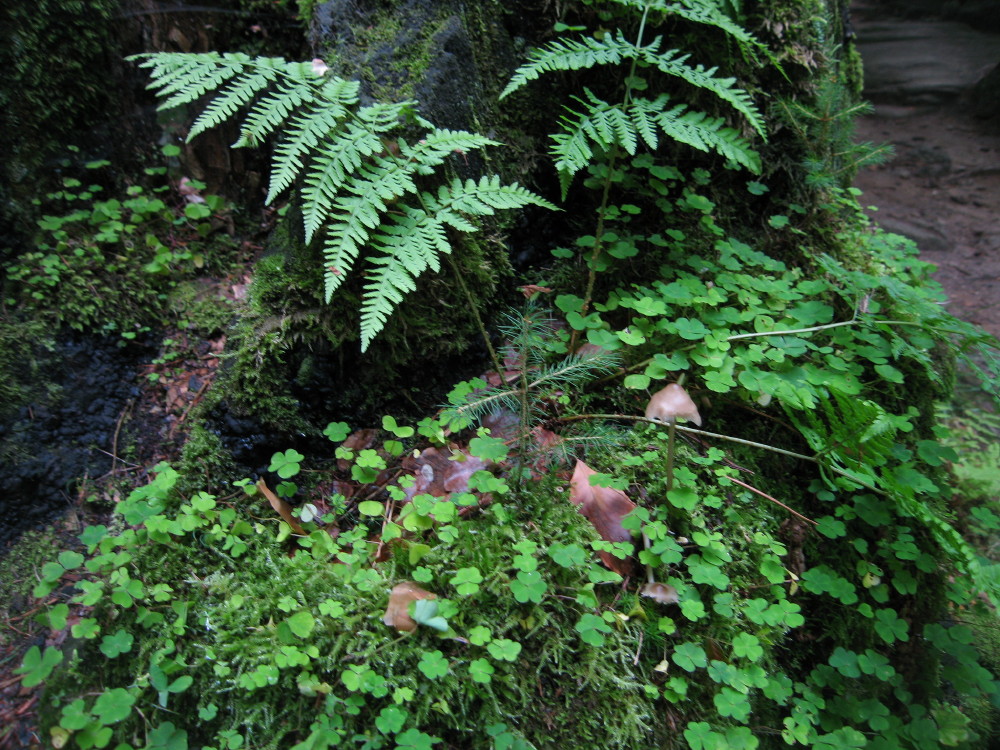 These ferns and moss are growing on an old tree stump.
Here's the stump. I had to use the flash to get a clear picture, which then makes the background look darker than it really was.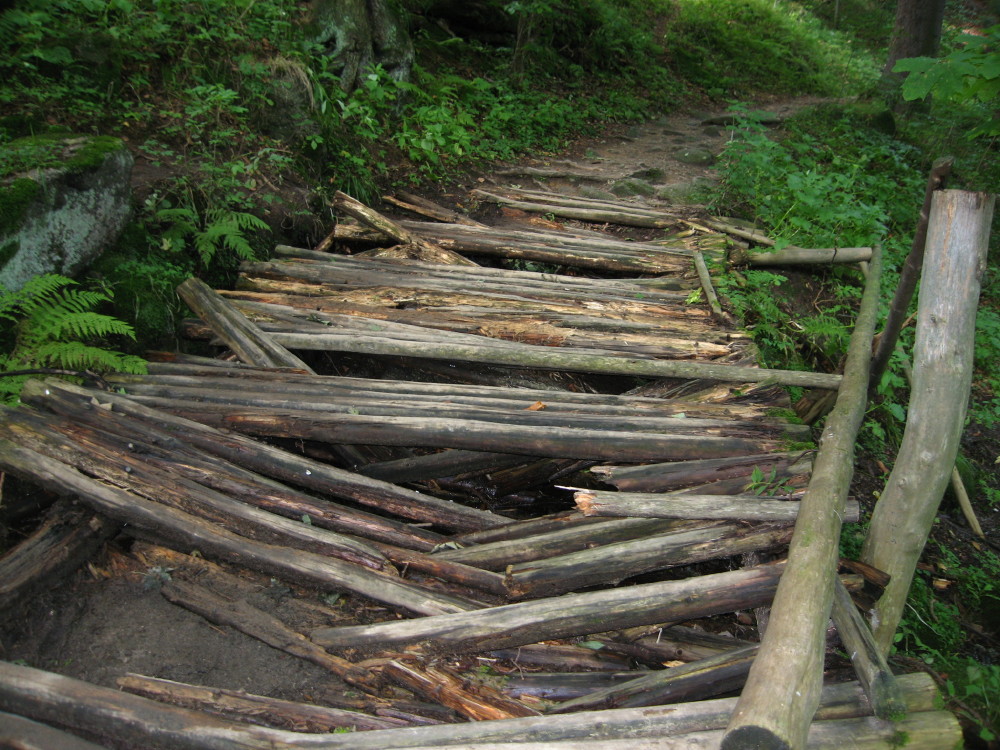 Here's a bridge I crossed. I was glad the logs weren't wet.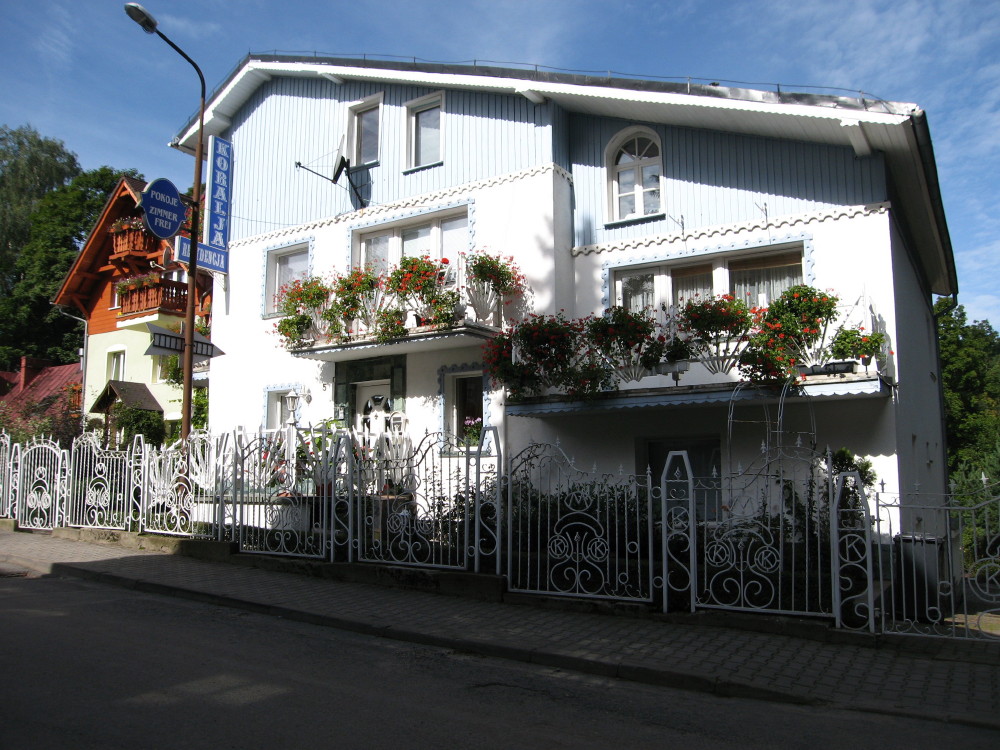 Then I came to this village. The town center had shops and restaurants, but I only took pictures of these pretty guest houses.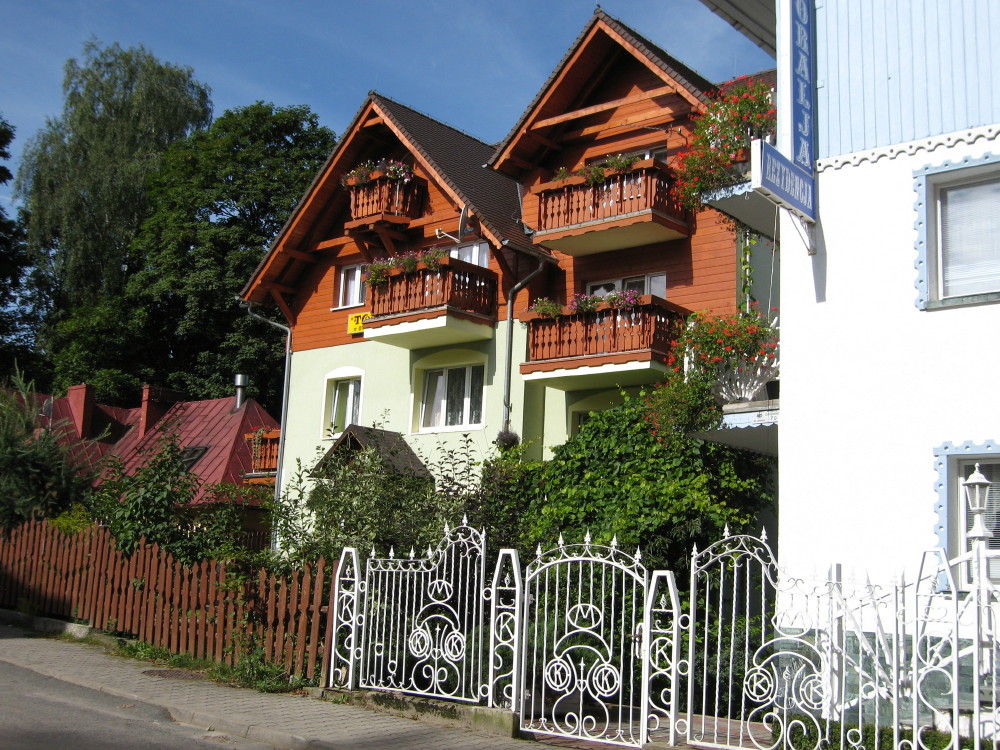 Remind you of a village in the Swiss Alps?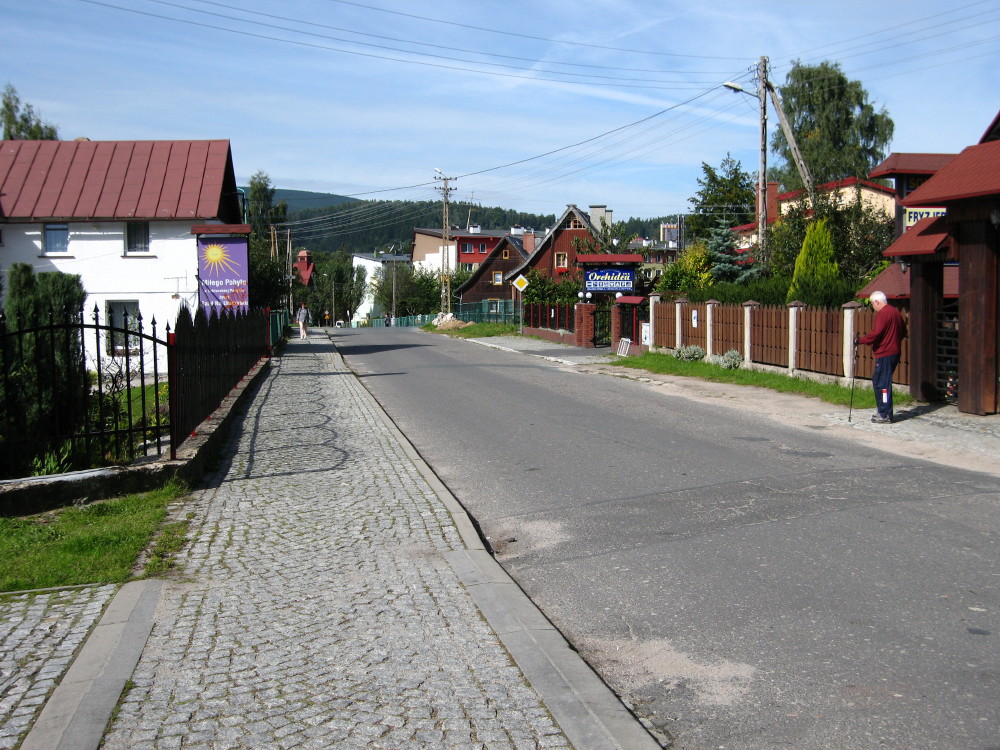 The street leading back out of the town.
A private home with a pretty fence and balcony.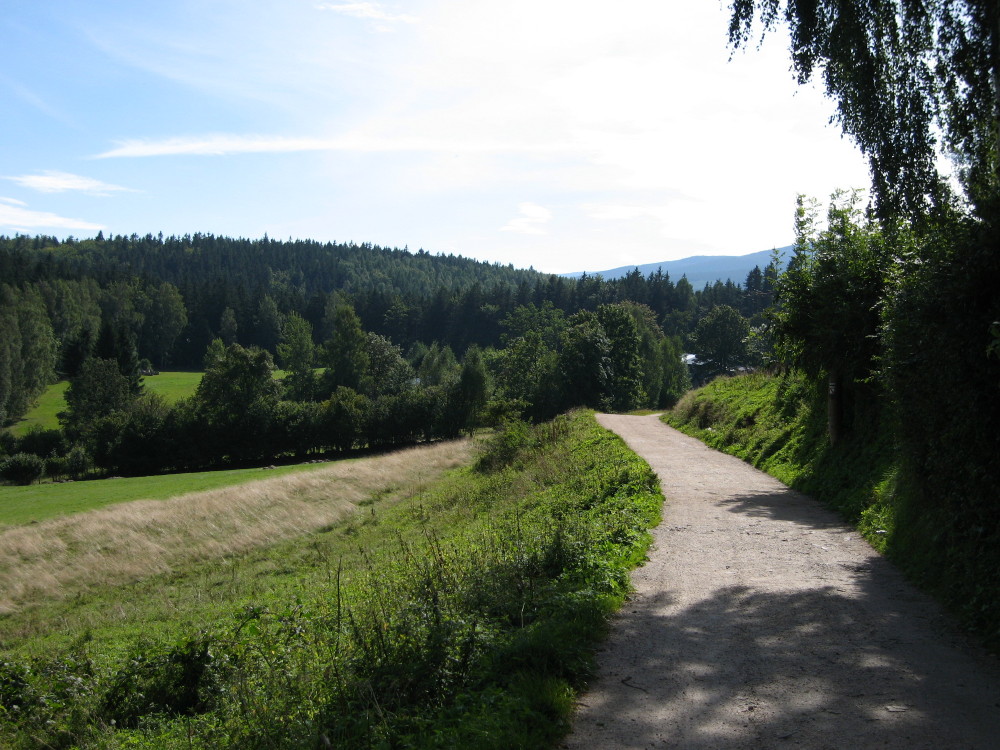 My map was pretty easy to follow and the trail was marked with colored blazes. The hike continued along this road,
and back into the woods and the park again.
More green. I love moss.
The trail followed this stream.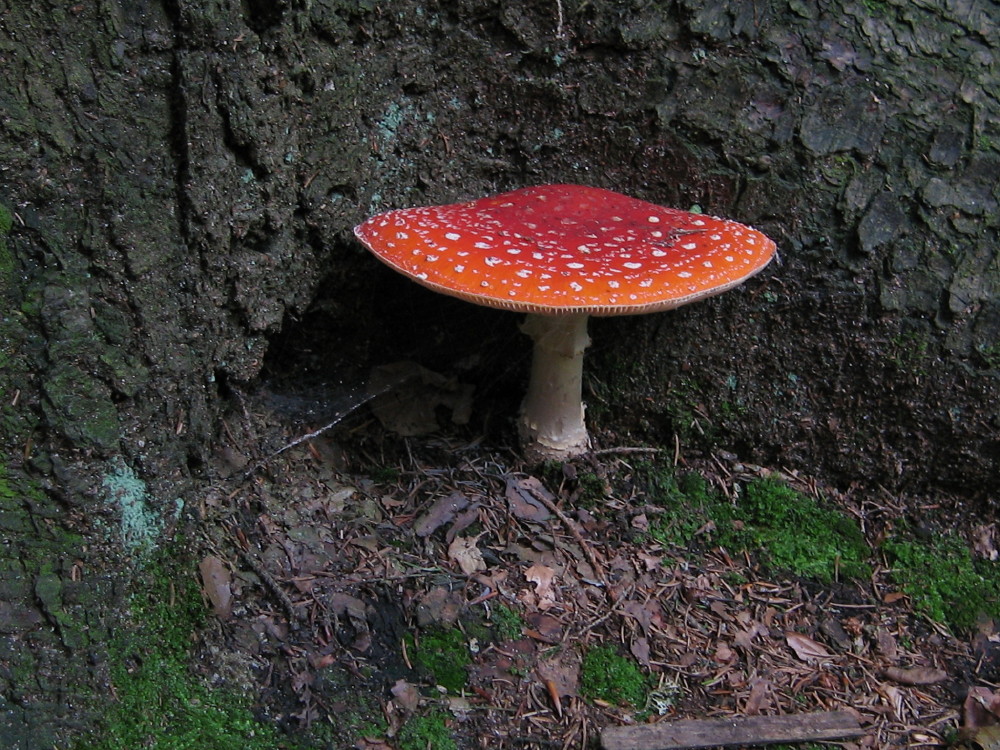 I saw several of these mushrooms.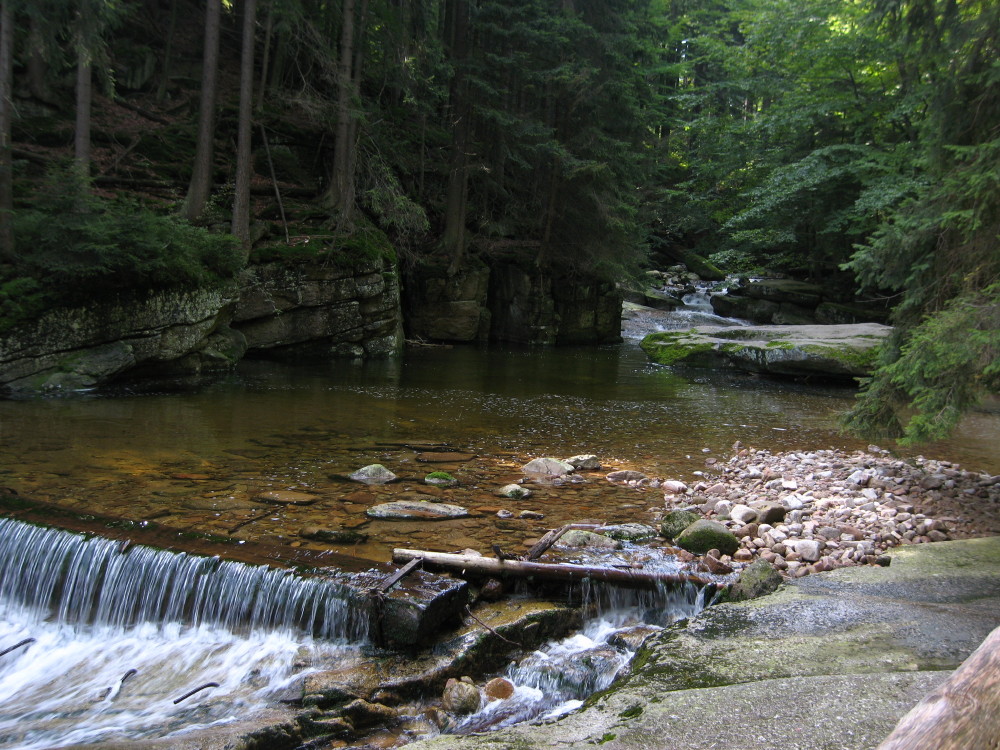 There was a waterfall up ahead.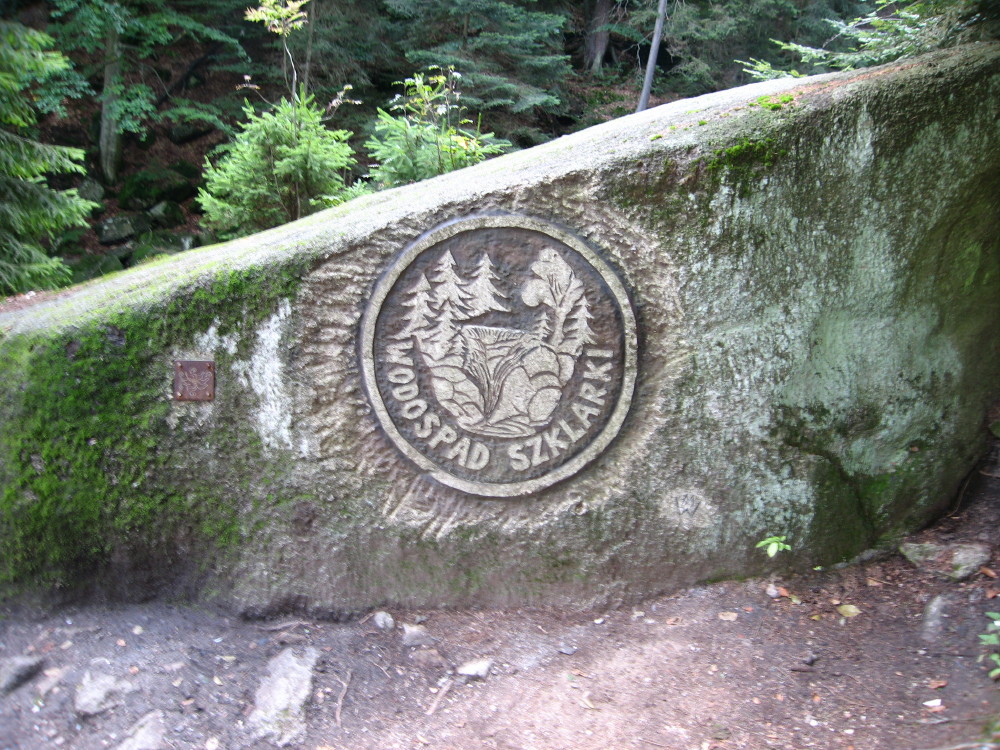 Vodospad was a word on one of my CD's, so I knew that meant Waterfall. Szklarki is the name of this area, I think.
The Szklarki Waterfall.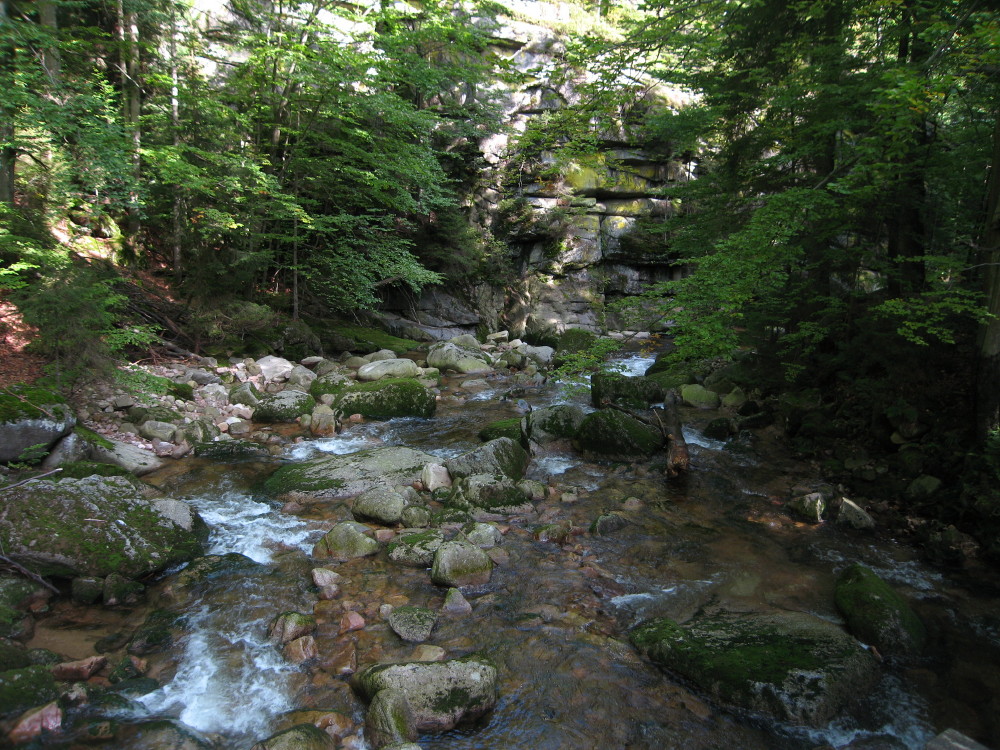 Just below the falls.
I returned to the hotel for lunch at 12:30. This is the courtyard outside our room. Our balcony is the second one from the left in this photo.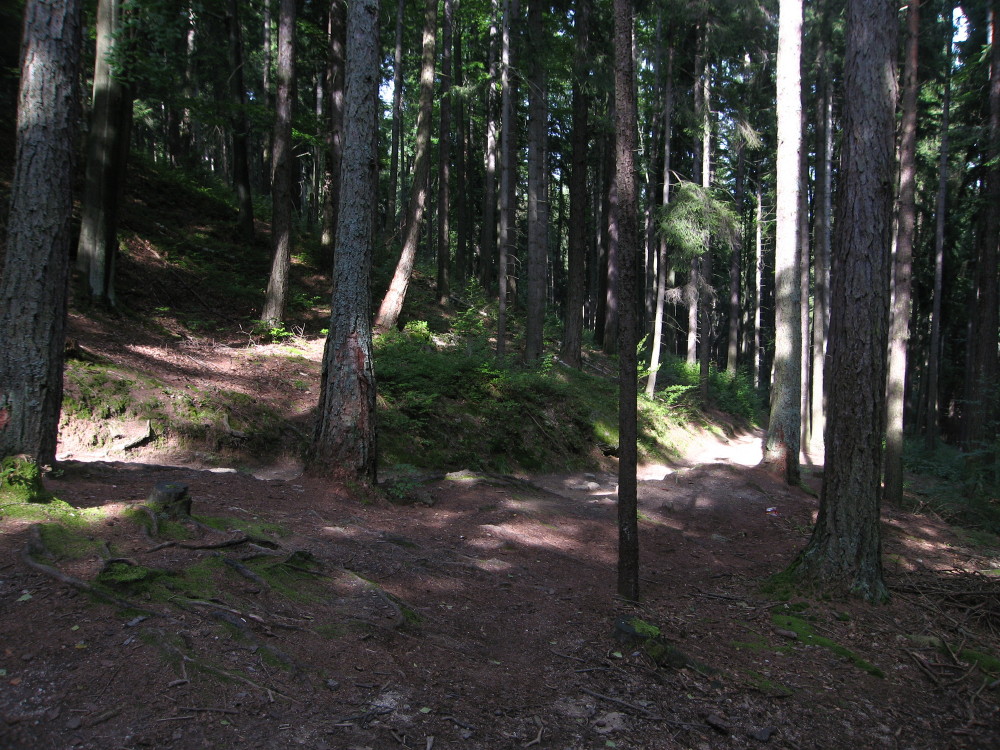 After lunch I went out for a second hike. This time I stated out climbing up a steep hill.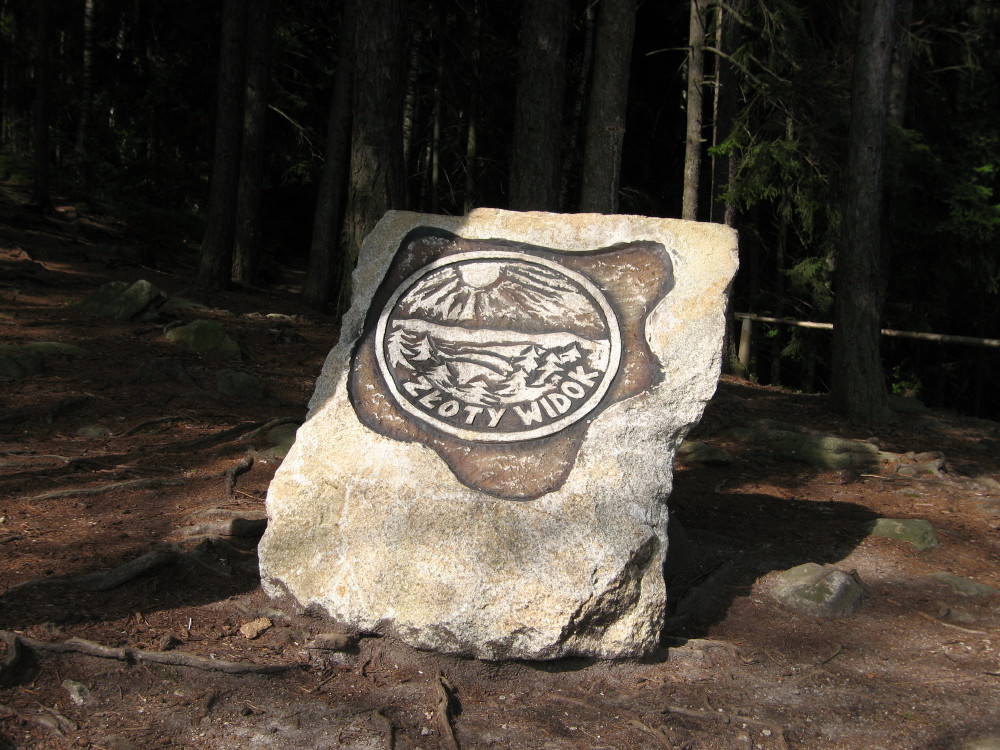 "Golden View"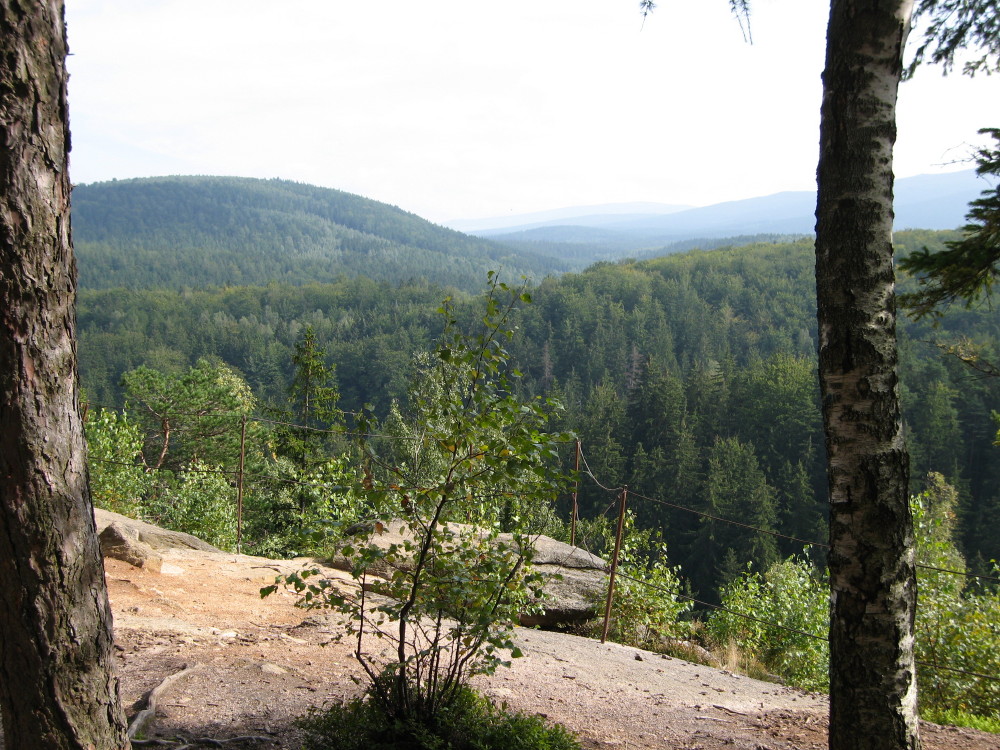 Outlook.
Artist Wlastimil Hofman lived here from 1947-70. (Wikipedia article about him.) (Google image search for him.) The gate was open and I walked into the open doorway where there was a sign saying "please ring" There was no one else about and it was absolutely quiet. I figured if the caretaker was there he or she was taking a nap and I didn't want to disturb them, so I didn't ring. Back on the trail again I realized the sign had been in Polish only, but I hadn't even thought about translating it.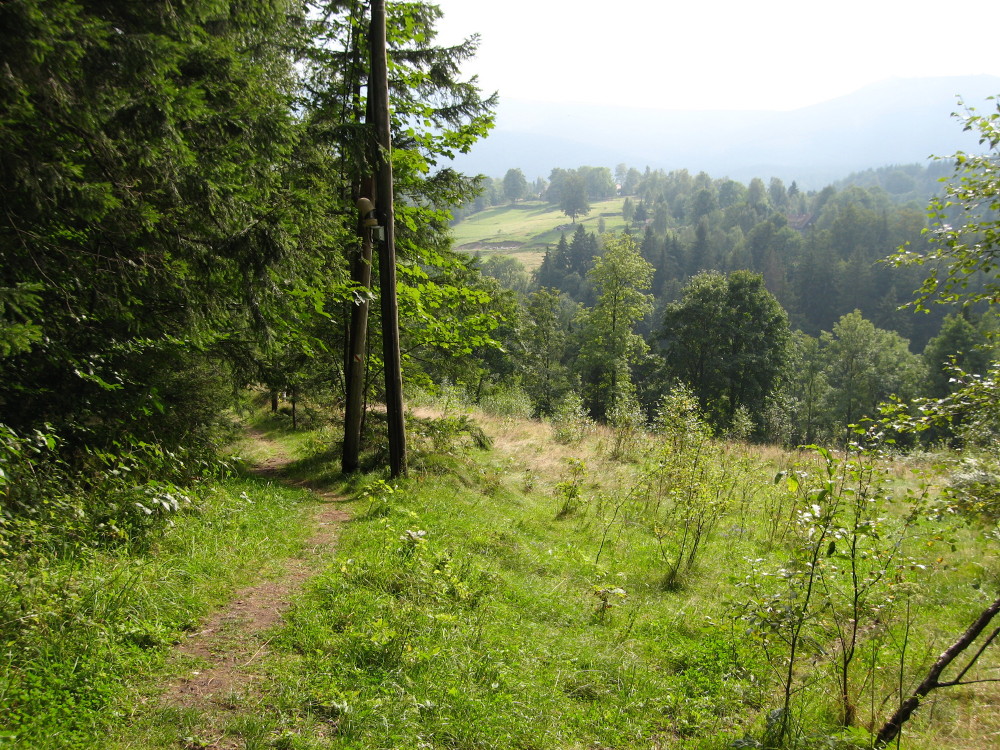 My morning hike had been about 12 km, so in the afternoon I took parts of different trails to shorten this one. Here it goes through a meadow.
And here there was a short stone wall.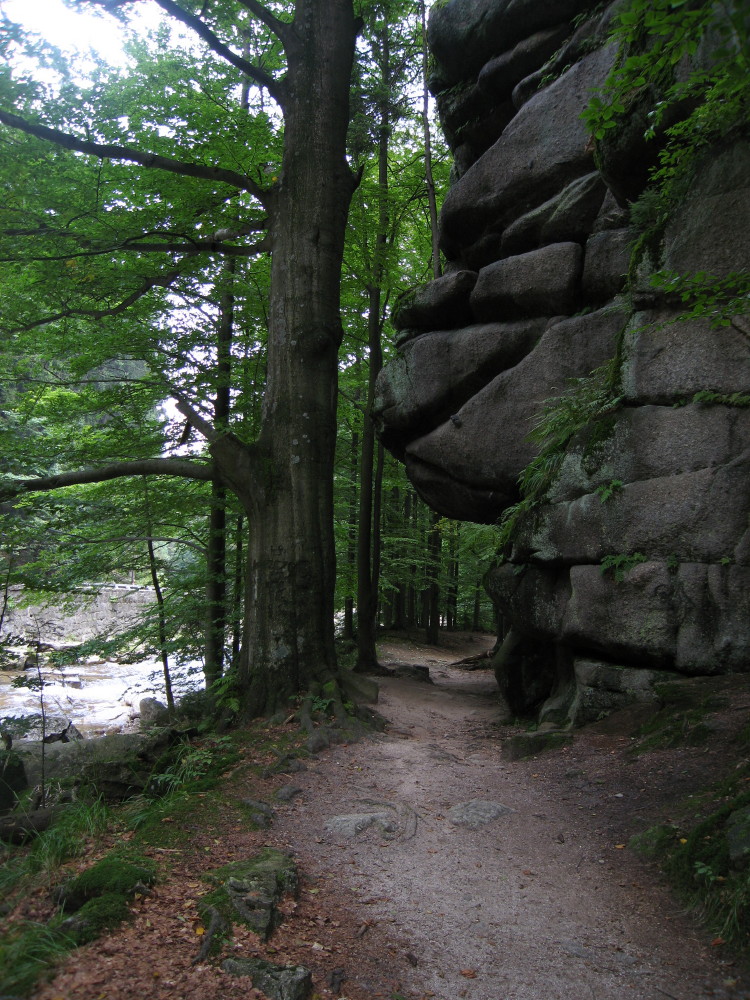 On this part I was retracing part of the trail I'd taken in the morning.
On the next day it rained in the morning, so I did some stuff in the hotel, packed and we got a ride down to Prague with one of the other meeting participants. Prague was wonderful. We spent about 4 days there on two weekends this trip. I'll get to those pictures next.
Do let me know if you enjoyed these pictures. Feedback is most welcome. e-mail me or sign my guestbook.