South Korea - April 5-8, 2008
South Korea is very far away from Duluth, Minnesota. If I had known we would only have 4 days there, I'm not sure I would have agreed to go, but I'm glad I did. I left Duluth at 5:30 am on Thursday, April 3, met Jim in Portland, Oregon and continued on to Tokyo and then Seoul, arriving just before 2:00 am on Saturday at our hotel in Seoul. The next morning after a much-needed rest we met a guide and driver at 10:30 and stared out on a wonderful tour of parts of traditional Seoul.
Our first stop was this old royal palace, which is somewhat similar to the Imperial City in Beijing. We were here just in time for the changing of the guard, a show put on each day for tourists.
Jim and me in front of the second of three gates leading to the palace.
The king and queen had separate houses. I think this is the queen's house.
A lovely garden behind one of the houses.
The man in red with gold embroidery is supposed to be the king. You can see some of the buildings of Seoul in the background.
Next we went to a folk museum, where we learned a lot about traditions in old Korea. This display shows a traditional wedding ceremony.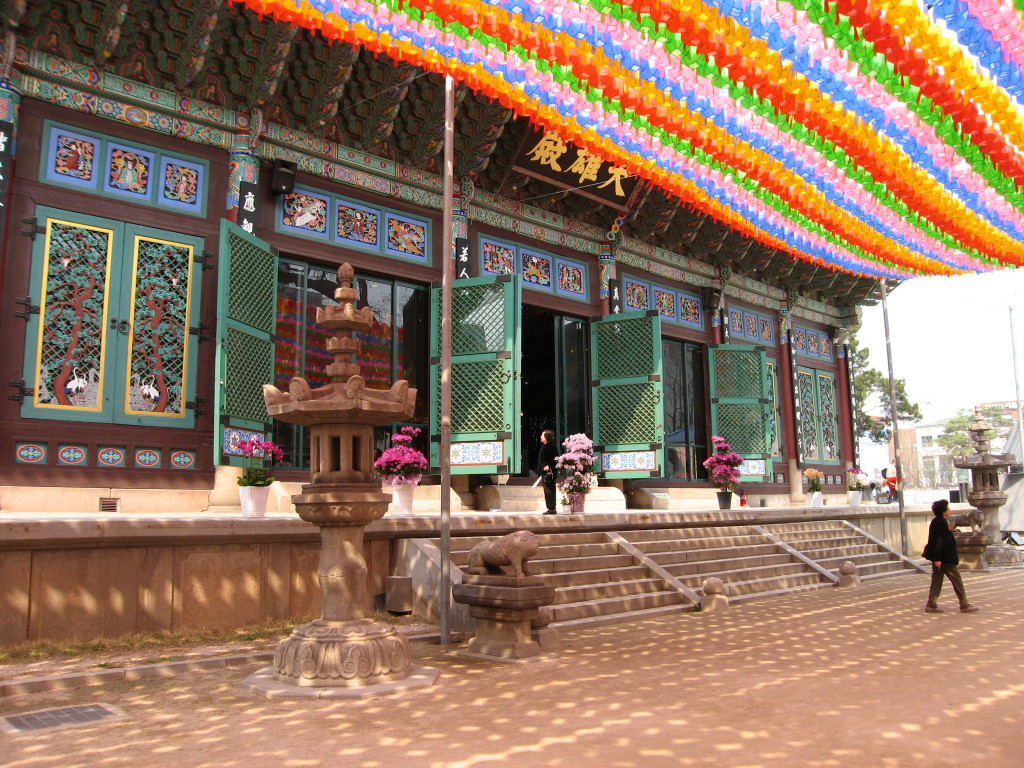 This is a Buddhist temple, where a prayer service was going on.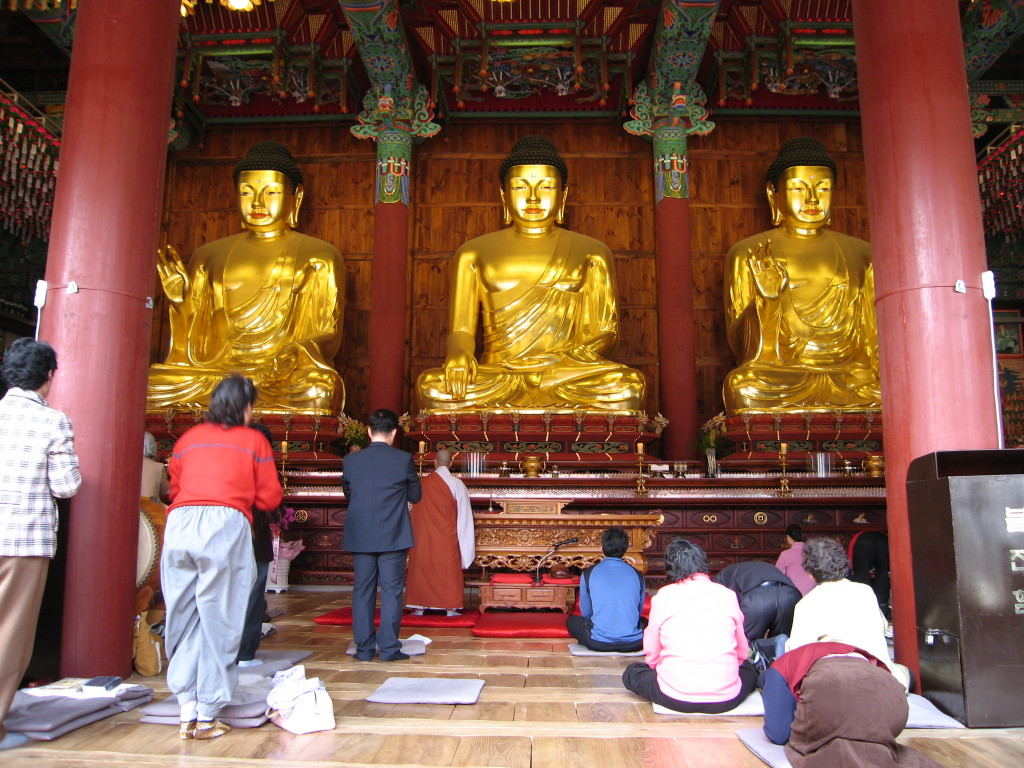 The monk in front is chanting. Some of the participants stood up and knelt repeatedly. Others sat. The woman on the left must have strong legs as she went up and down many times while we were there.
I love this sculpture. Can you see what it is?
From the temple we walked to this traditional market.
This is our guide telling Jim about the foods here.
This market sold everything from food,
to restaurant uniforms,
to personal name stamps.
I decided to have my name engraved on one of these stamps in Korean. The 4 symbols on the screen are Korean symbols that sound like Sheshilia, which seemed to be the closest to Cecelia. I'm watching the laser engrave the wooden stamp. I had to stand on tip-toe to see it, so am holding onto the counter for balance. As you can see this is all done very quickly with modern technology.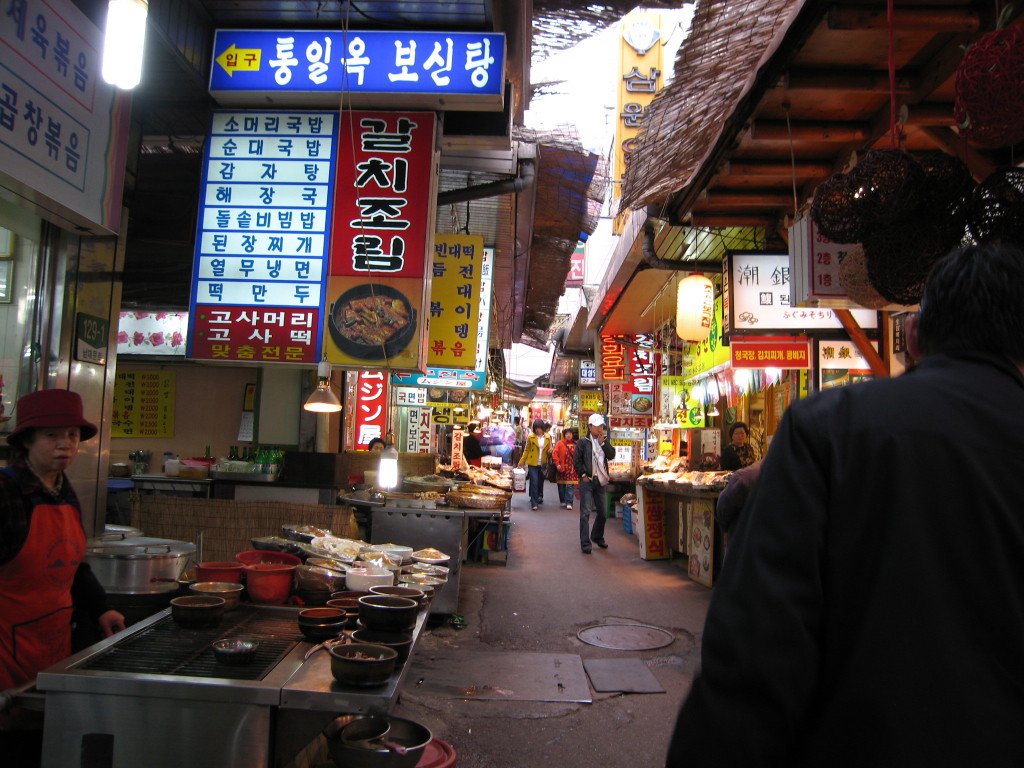 This market covered several blocks of wide and narrow streets.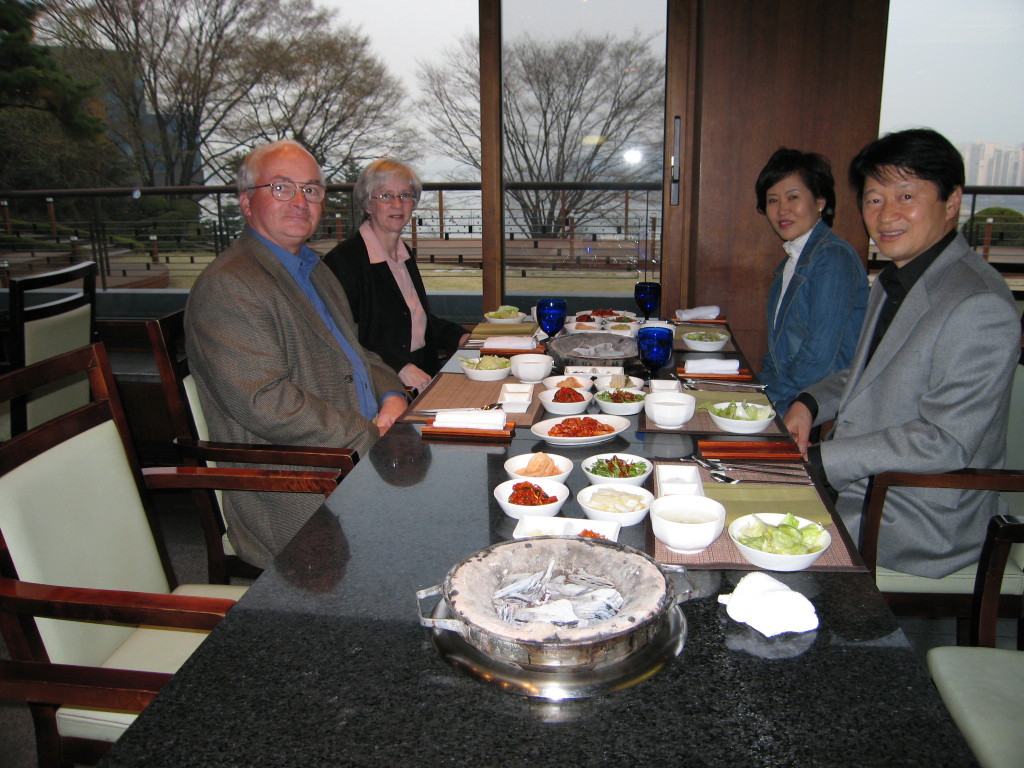 That evening we had dinner with our host, and traveling companion, who actually works at UMD in Duluth and his long-time friend, who is currently the deputy mayor of Seoul, and his wife. We had Korean barbecue. You can see the hot coals that will cook the beef, set into holes in the table.
And here you see the thinly sliced beef cooking. It was delicious.
On our second day we were met at the hotel again by our guide and driver, who this time took us to an open air museum outside of Seoul.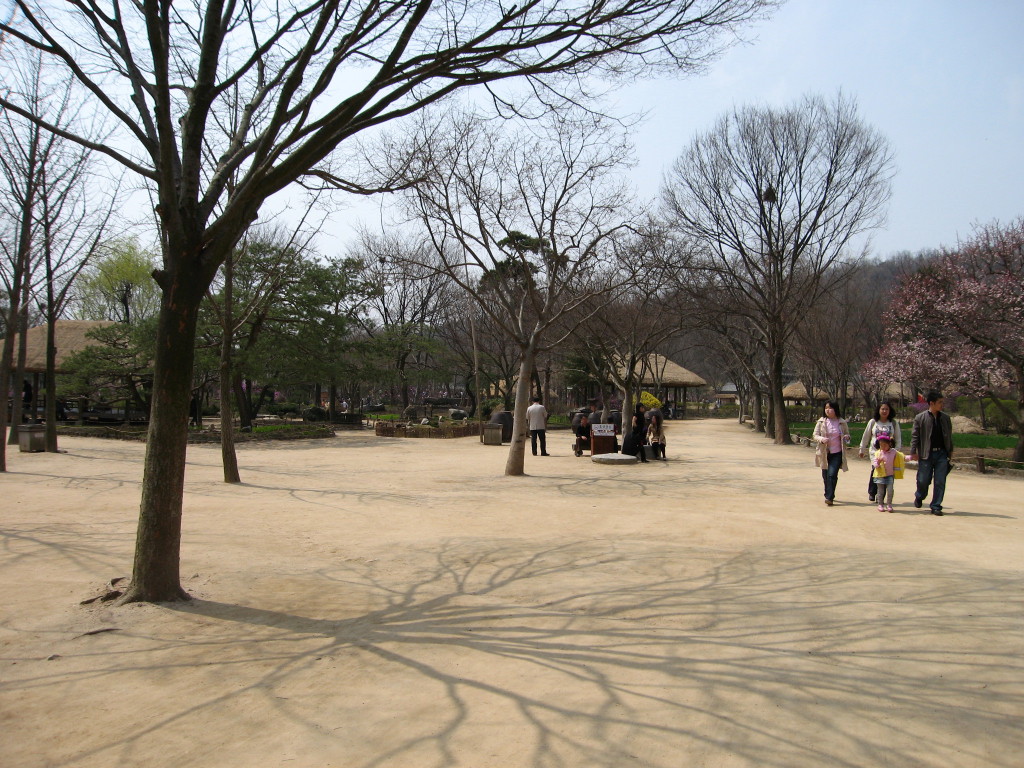 It's a large museum with buildings from many areas of Korea.
Here again we learned a lot about traditional Korea.
Given my fascination with fiber arts, I had to watch and take pictures of the fiber demonstrators. This man was twisting straw into ropes that then could be used to make mats like the one he is sitting on and baskets, etc. like the ones above and behind him.
This woman is spinning cotton.
And this woman is spinning silk.
There were also demonstrations of traditional dances.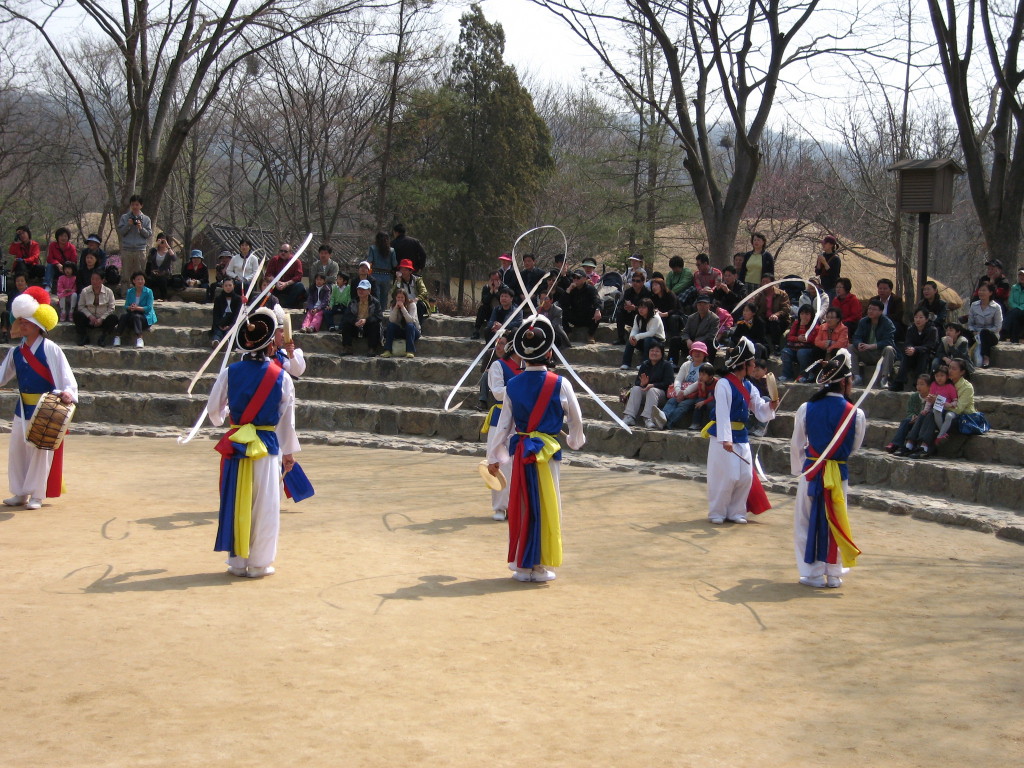 These men spun these ribbons around just by turning their heads.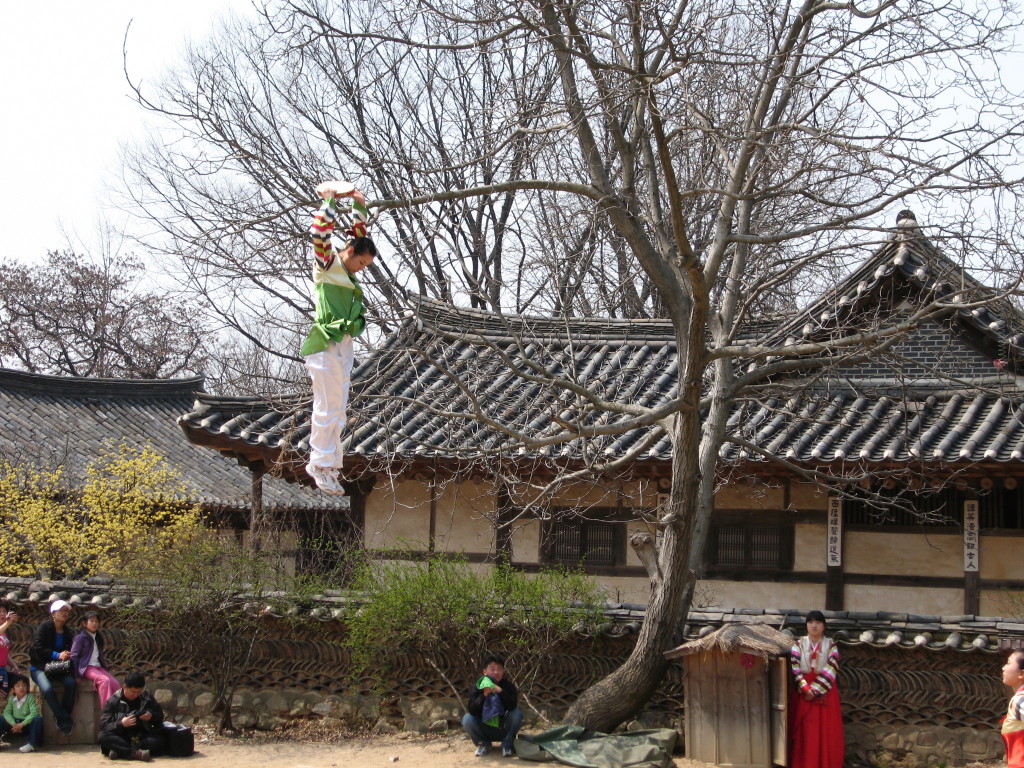 Acrobats on a see-saw.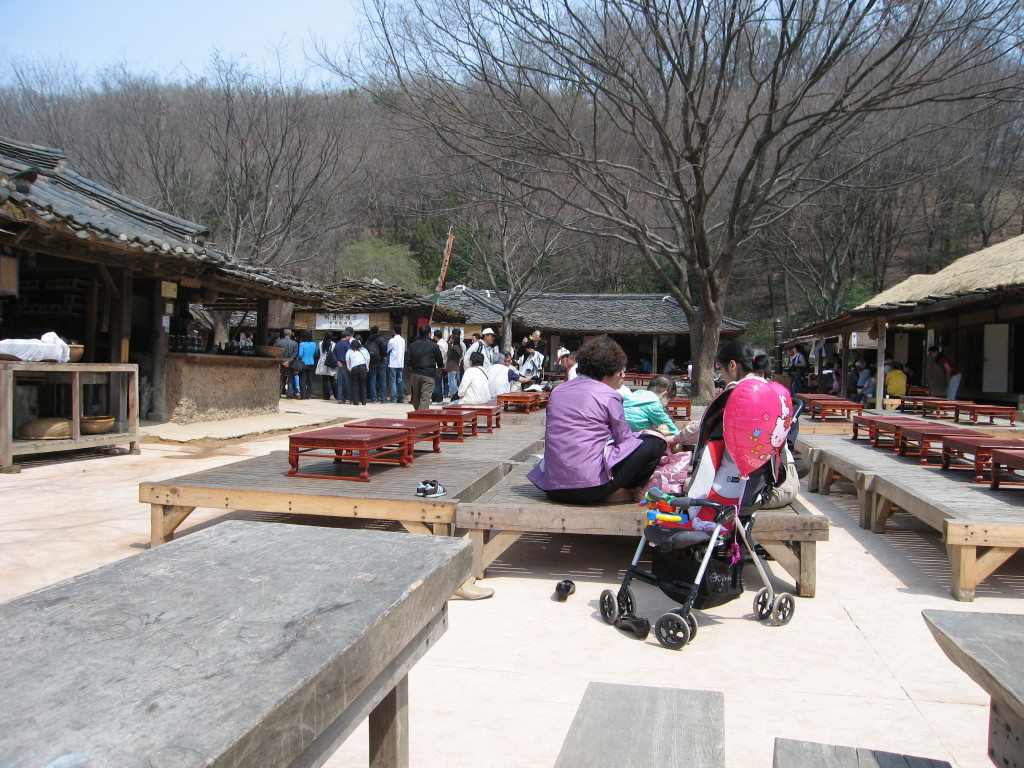 Here's where we had lunch. You can see there are regular picnic tables and those platform tables. There were many food stalls all around like a food court.
After this we went back to Seoul for a wonderful percussion/comedy performance called Cookin' Nanta. it was great fun and even though we were in the second row, we did not get splattered with food.
The next morning we were picked up and driven to Chuncheon, where Jim visited the Kangwon University and I did more fun things.
Back to Asia index page.