Merry Christmas from our house to yours!
My little table-top or rather trunk-top tree in the family room.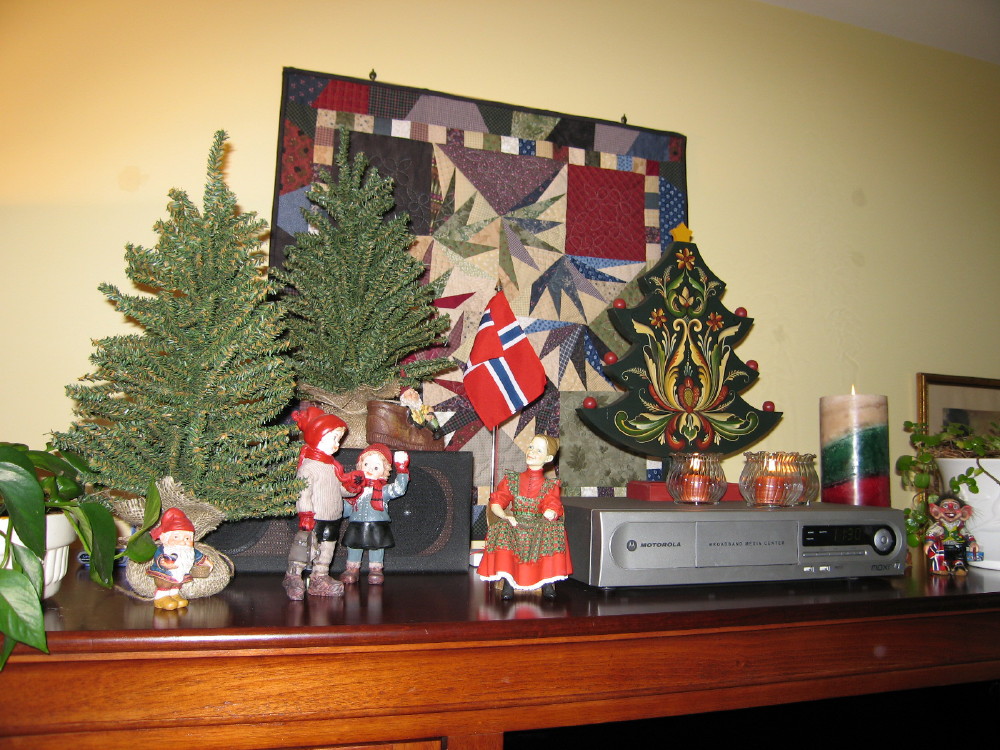 On top of the entertainment center. Some people are happy that I didn't cover the equipment with white fleece like I did last year. The Norwegian flag and troll were gifts from our relatives in Norway. I didn't think they would end up being Christmas decorations when I received them, but they seemed to fit in with the other stuff.
I bought the boy and girl in Sweden and the the mother in Decorah, Iowa.
My snowmen on top of another trunk.
My dolls in their cupboard. They are wearing new jewelry that I bought for their bunads this summer. More Norwegian flags.
The top of the cupboard. I carved that plate in a chip-carving class.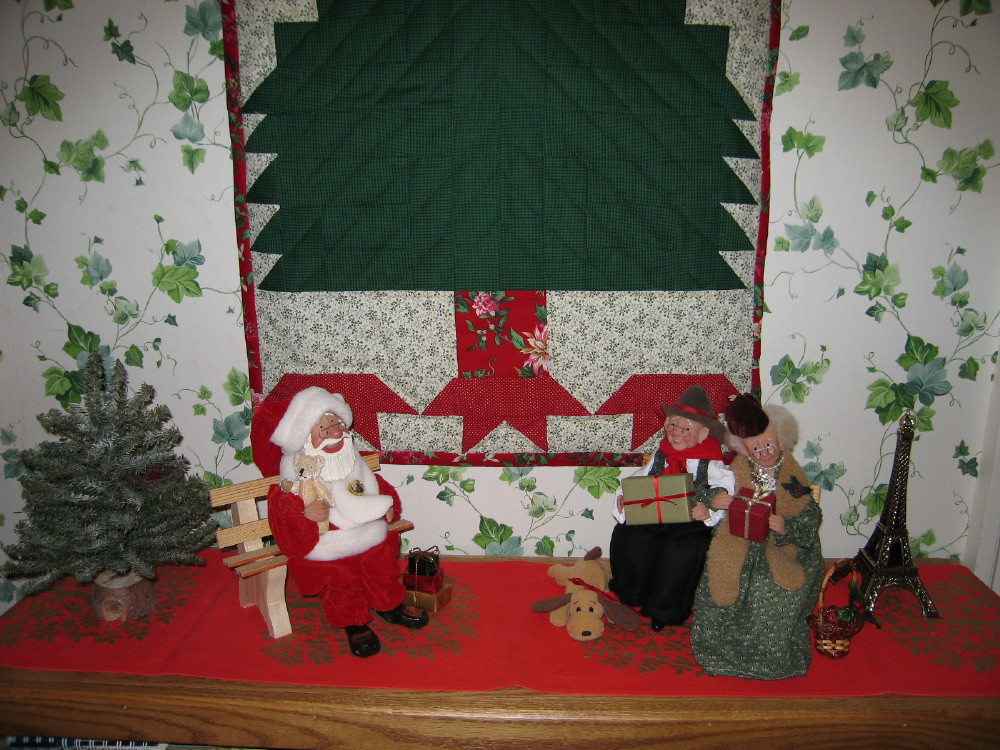 On the bookshelf in the foyer, some of the dolls I collect made by Joan Rydberg of Minnesota. The quilt wall-hanging was made by my sister-in-law.
Our tree. I went with blue, silver and white this year to coordinate with the decor in this room.
Window sill in the living room.
Living room mantel. I used to do this with a collection of brass candle-holders and burgundy candles. I went in a completely different direction this year.
Close-up of the mantel.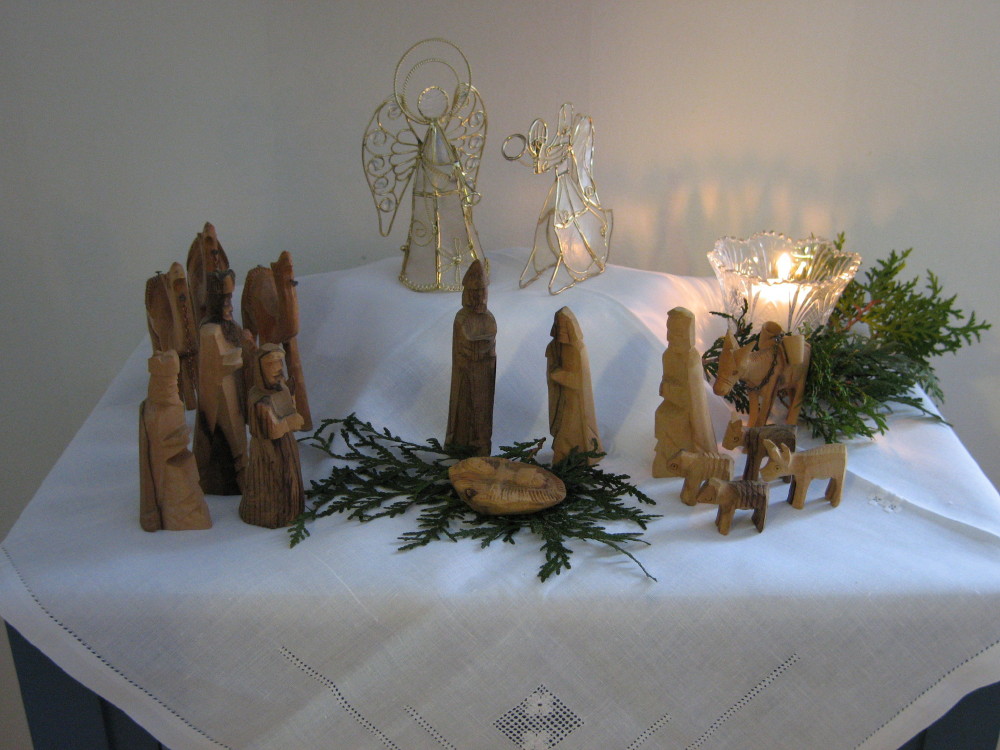 My little olive-wood nativity. It's small and plain, so it's easy to overwhelm it with decorations. I tried not to do that.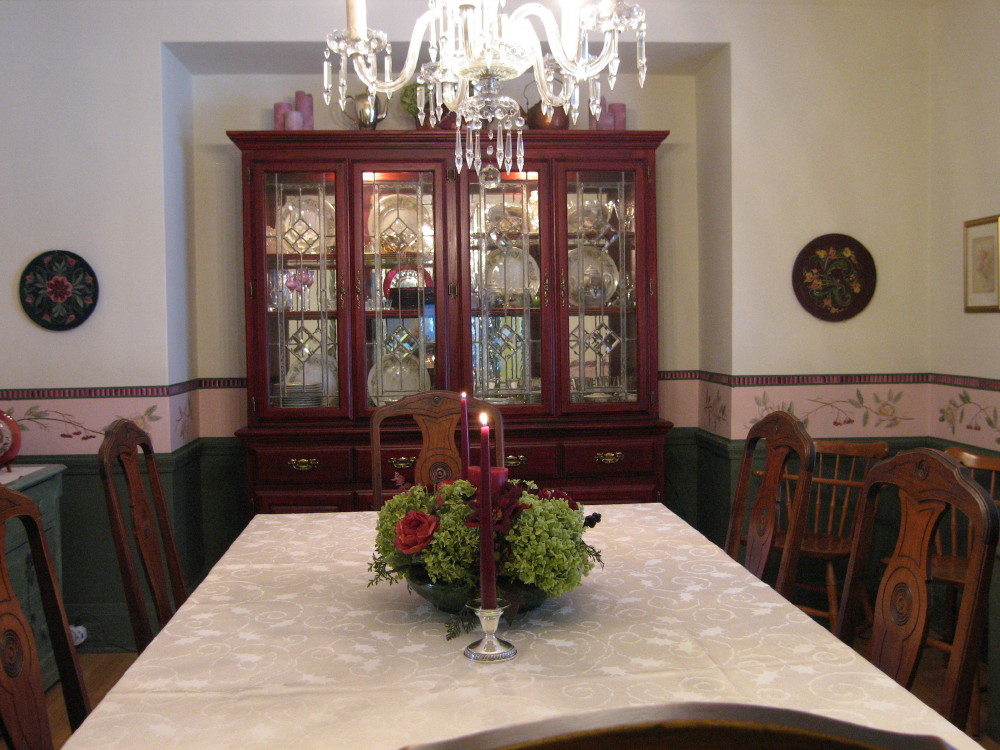 I used dried hydrangeas from my Annabelle Hydrangea this year, as the basis for the color scheme in the dining room.
Keeping it simple in here too. And as a bonus I won't have to take this down after Christmas.
Another shot of the table.
The bonus here over the more elaborate arrangement I had last year, is that changing the tablecloth is much easier.
The window and two more dolls by Joan Rydberg. That's Miss Ophelia Rose on the left and Miss Lily Pearl on the right.
This window and the one in the living room face the street, so the electric candles show up from outside.
_________________________________________
Well that's the tour. I hope you enjoyed it. Send me pictures of your decorating. e-mail me.