Taipei, Taiwan April 22-May 4, 2010
From Hsinchu, where Patrick was staying we would take the high speed rail to get into Taipei. It was fast and always ran on time. This is the plaza outside the main station in Taipei.
A typical building in Taipei covered with colorful signs. I saw very little English and even less PinYin in TaiPei.
The Chiang Kai-Shek memorial plaza has the National Theater and National Concert Hall on two sides and the Chiang Kai-Shek Memorial Hall and a large gate on the other two.
A close up of the decoration under the roof of the National Theater.
The ornate gate to the plaza.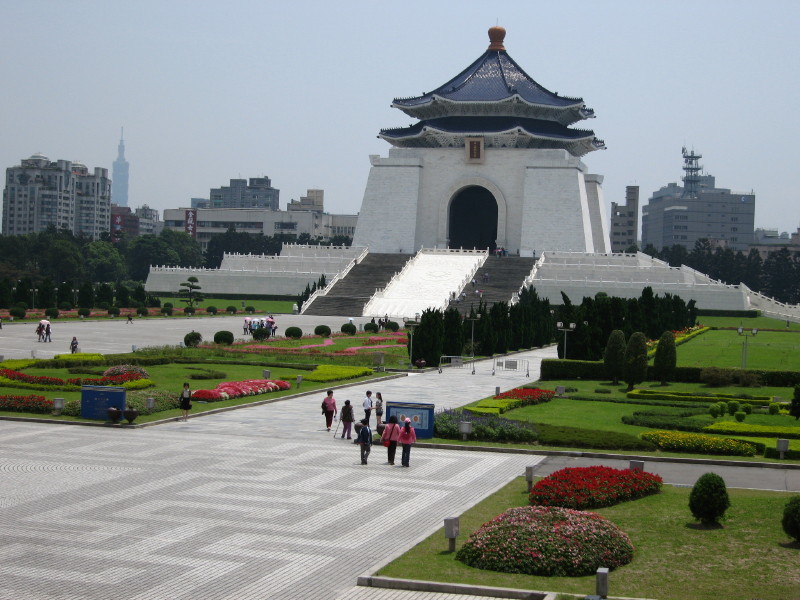 The Chiang Kai-Shek Memorial Hall. It houses a museum to the leader underneath.
The carved wooden ceiling inside the memorial hall.
Chiang Kai-Shek at his desk in the museum.
One of the buildings as seen from a garden.
On another day I visited the Sun Yat Sen memorial. I watched the changing of the guard here.
These two young girls showed me around the memorial hall.
TaiPei 101 as seen from the gardens of the Sun Yat Sen Memorial Hall.
Gardens in front of the Sun Yat Sen memorial. I decided to walk to the Taipei 101 building from here.
A tree-lined street along the way.
The flowered wall conceals a construction zone. They are building an underground entrance.
According to the sign the building I was looking for is straight ahead.
For a brief time this was the tallest building in the world.
Some of the buildings nearby.
Inside the mall at TaiPei101
Again inside the mall.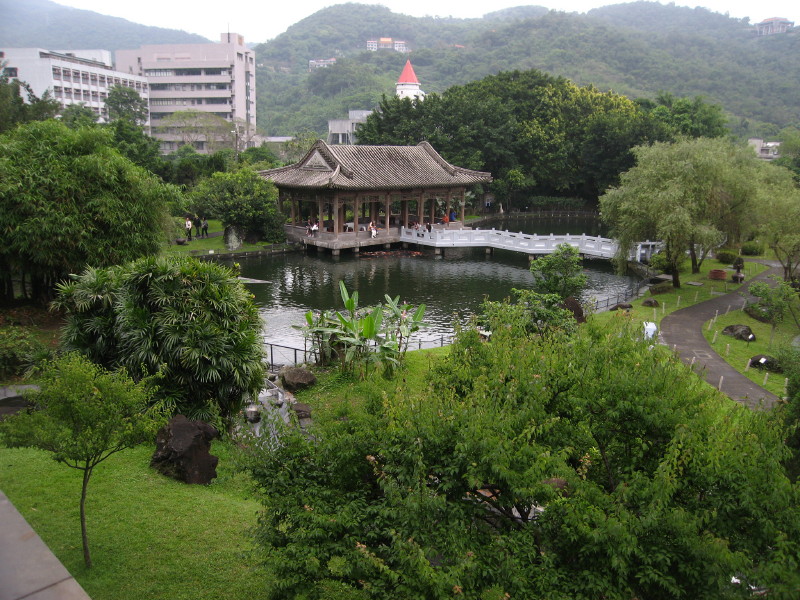 A garden near the National Art museum.
Another pavilion in the garden.
Main gate of the Longshan temple in Taipei.
Not all of the temples have such impressive facades, however. The red lanterns and ornate roof indicate another temple near this busy street corner.
This is another side of the same temple as that above, just around the corner--where the red lanterns are.
Inside that temple, which had many levels.
Another area inside the temple. Offerings are made on stainless steel tables, using red plastic plates available for the purpose.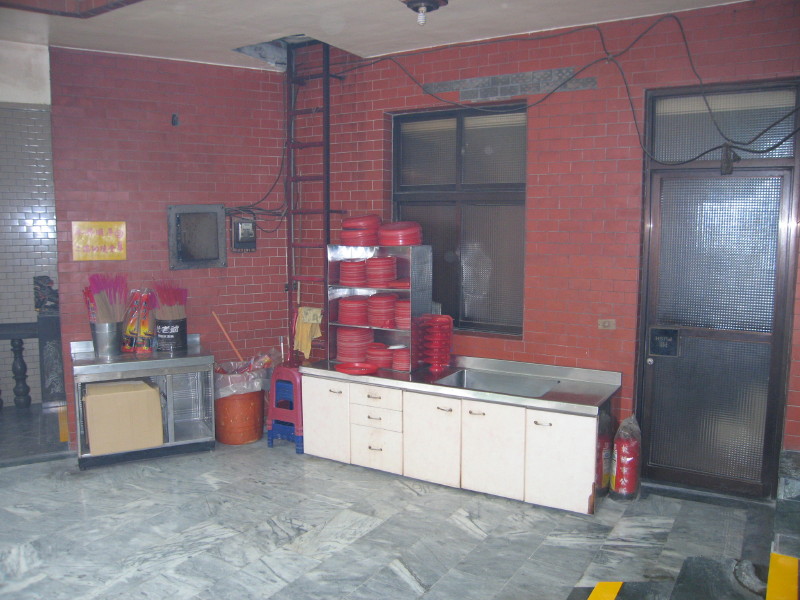 The washing-up area in the temple where the plastic plates are washed for reuse.
We came out near the roof of this one. All the temples I saw in Taiwan had very ornate roof decorations.
Jump to: Taroko Gorge National Park
Around Taipei
Asia index page on Ceci's web site.