A Couple Bike Rides
(Oct. 4-5, 2011)
When my brother and his wife came to visit me in Normandy, we bought 3 bikes and took two bike rides.
Jim was back in Duluth, taking care of some stuff back home, so it was just the 3 of us.
Here are the three bikes stacked up against the wall in our courtyard.
We bought a used Peugeot from an Englishman who lived about 16 km away. We stopped there on our way home from the train station, where I had picked up Ken and Marta as they arrived from the U.S. Ken paid for the bike and then rode it to our house. I had given him a map with the route highlighted, but it was also so well sign-posted that he just used the map for fun.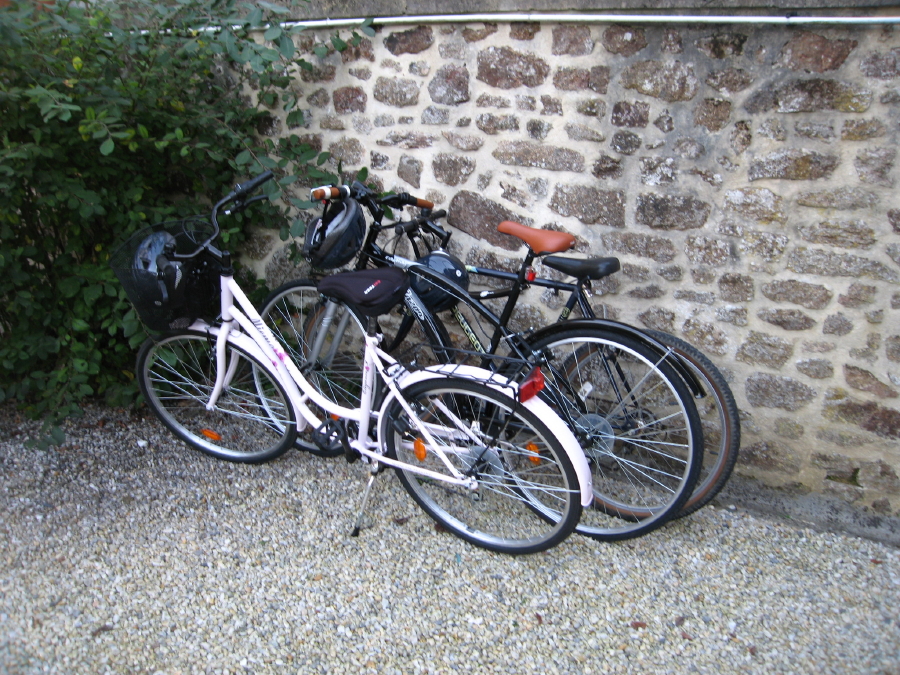 The next day we went to Flers to buy two more bikes and a bunch of accessories. For lunch we went to Domfront, where we had a nice lunch of toasted sandwiches and salads sitting outdoors on a quiet square. After lunch we walked around the old town and castle ruins. (I put up pictures of this town on a previous web page.) In the tourist office, the young lady at the desk was helpful in finding a packet of bike rides for us in the area, so we purchased the set of maps and guides for 5 bike rides.
________________________
The next day we started out on one of those rides. We chose one that went through our little town and also went by a menhir and a dolmen.
Here's the menhir.
Does everyone know what a menhir is? Is that a French word? They are prehistoric standing stones. I don't think archeologists know much about them. The word is familiar to us because we've been reading Asterix comic books since our first visit to France in 1965. Obelix carries one around with him most of the time. You can see Ken had little trouble with this one...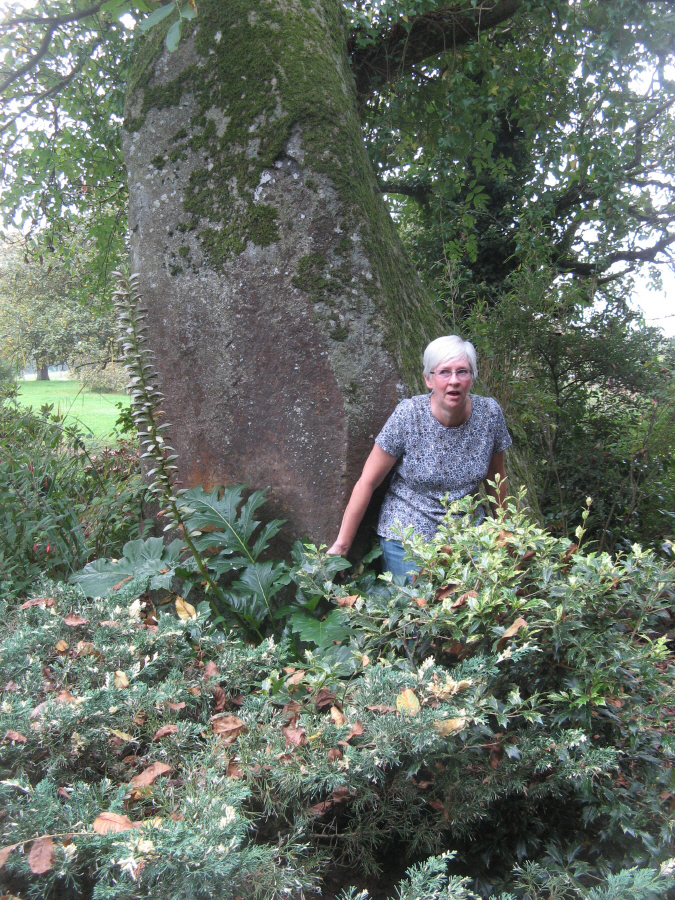 but it was much too heavy for me.
Our next stop was at this dolmen. Again a prehistoric structure, standing in a field. It's hard to date stone, but researchers suggest that these structures may be 7000 years old. There was a sign post for it, but not much else. These are thought to be old tombs, but no one is sure what their purpose was. We thought it was amazing that something like this was just sitting there in a field, but apparently there are thousands of them in Northwest France. Wikipedia article on Dolmen.
This seemed an ideal spot for our lunch. It was far enough off the road that we didn't see another soul while we were there. We unpacked our picnic and then it started to sprinkle, so we moved into the shelter of the dolmen.
Definitely the coolest place I've ever picnicked. The picnic consisted of "sandwiches jambon" with Camembert, chips, greek olives and apples.
From here we went on to the next stop, a chapel outside of Passais.
The mosaics and paintings in here were amazing. We spent a bit of time wandering around, looking at the paintings that were done between 1932 and 52, I think. The figures are real people who lived and worked in this region.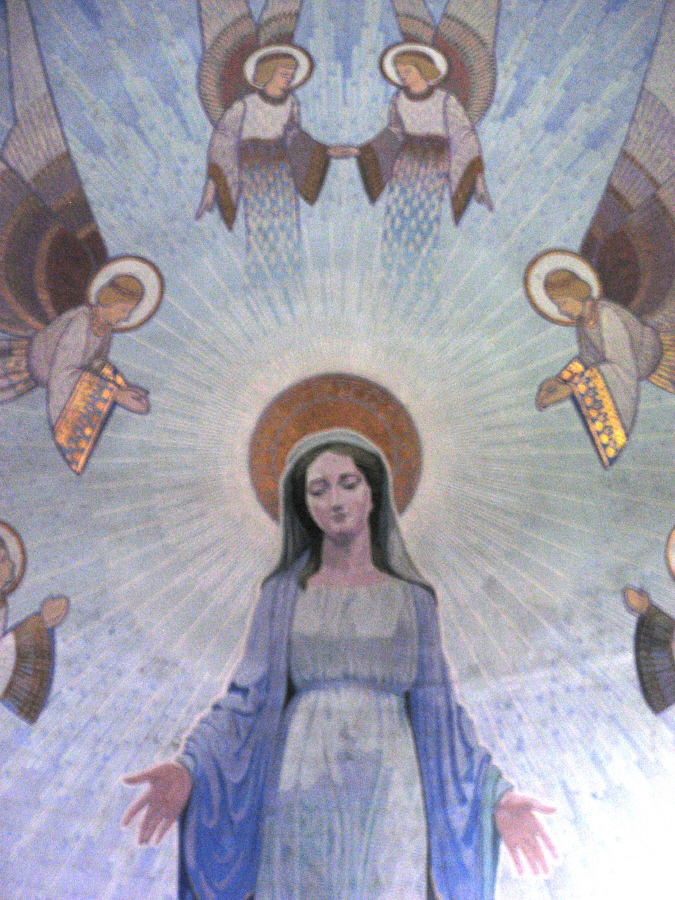 There are more photos of this beautiful chapel here.
____________________
Marta had to snap this photo.
Anyone who knows Ken, knows how ridiculous this looks. Apparently the name of this village is Bigot, which seems to be the name of a tool like a pitchfork in French, and also means over-zealous. I have no idea how this village got its name. Maybe it is just a family name.
This little calf was so cute and also a bit camera-shy. In general I found that the cows would come up to the fence whenever I walked by. Normandy has a lot of cows.
__________________________________
The next day we set off in a different direction and first stopped at this chateau outside of St. Fraimbault.
Our next picturesque stop was a bend in the river where there was an old paddle-wheel mill.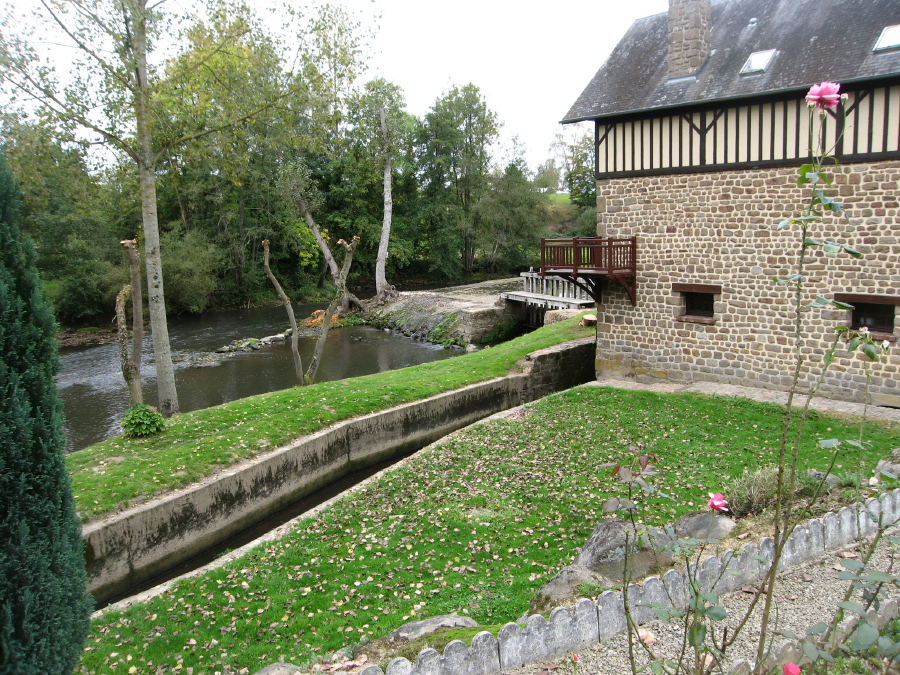 Here's another picture Marta took of Ken and me.
In the foreground in the photo above is a sign of the season. It is harvest season in Normandy, which means a lot of trucks and tractors going in and out of fields and tracking mud out onto the roads.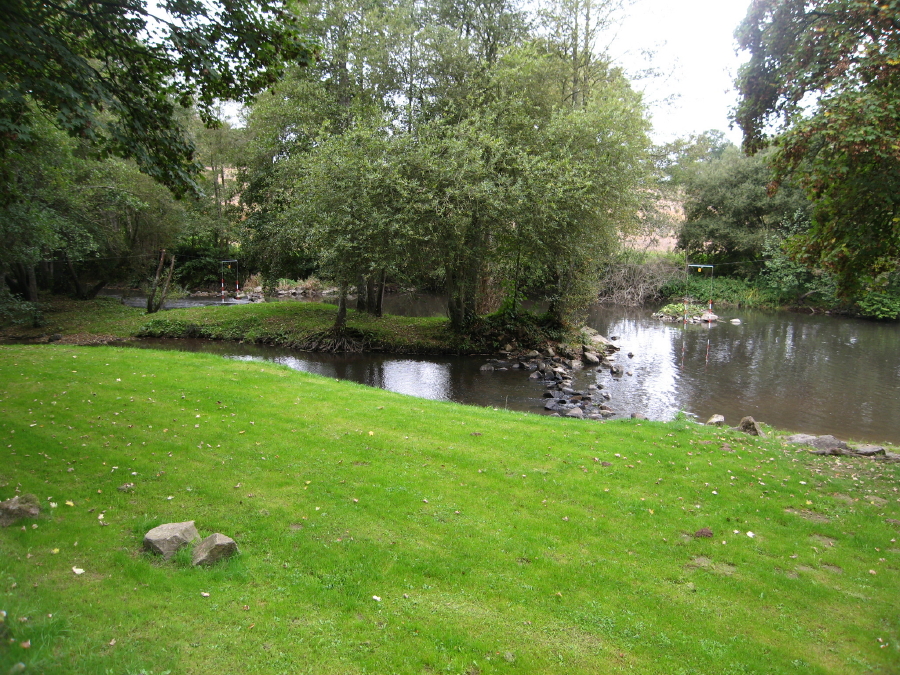 This is just below another old mill and a location where they rent kayaks and canoes. They have some gates set up for kayaks, but it was past the season and there was no one here when we were here. We had our lunch here.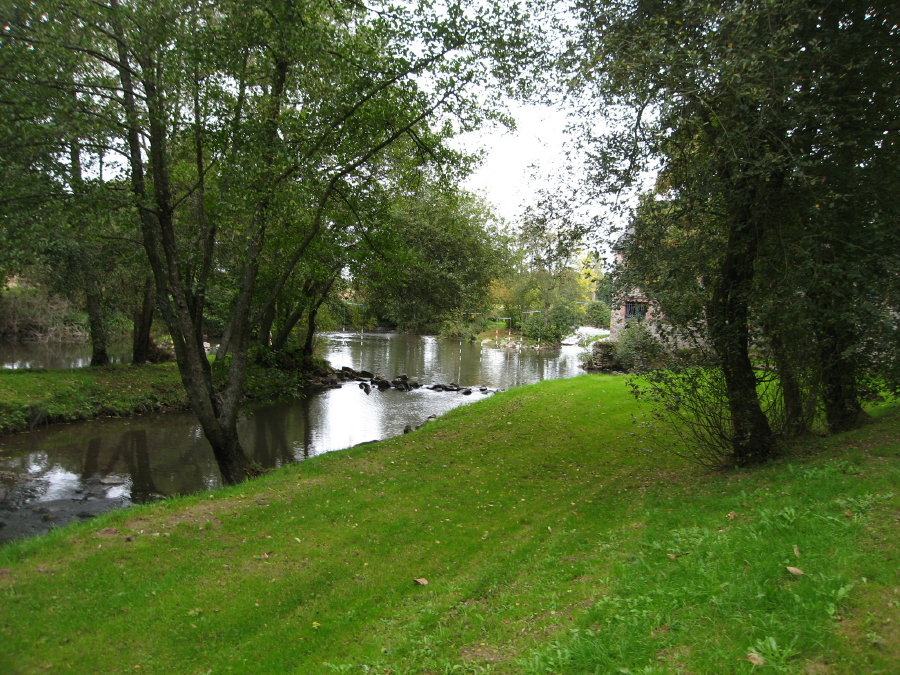 Another photo of our lunch spot.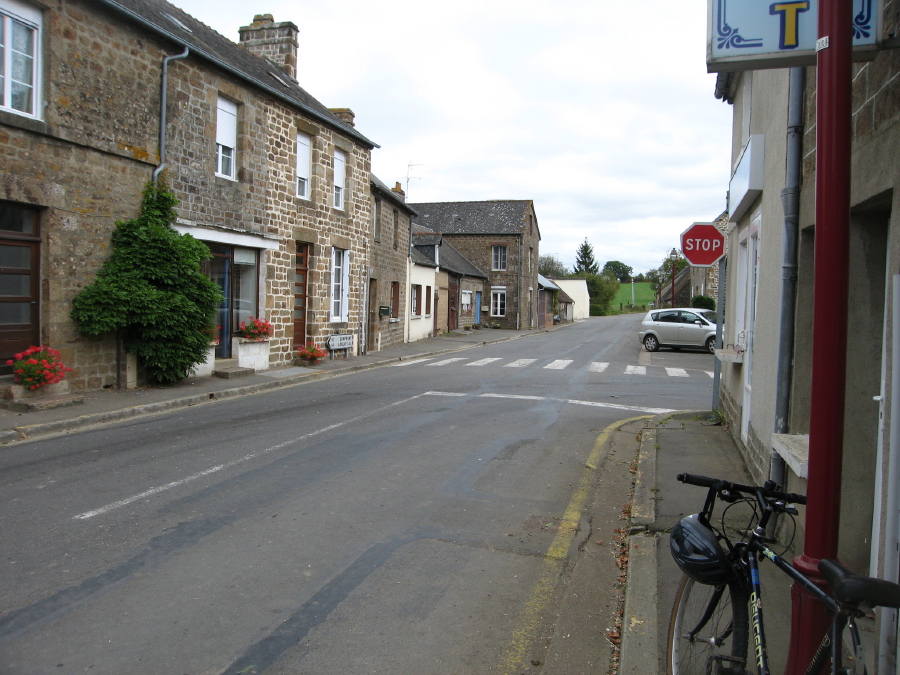 After lunch we rode through the small village of Torchamps. Ken and Marta went into the little grocery store, which was accessed through the pub. They said the pub was pretty busy. I stayed outside with the bicycles, because I though the store might not have room for all three of us.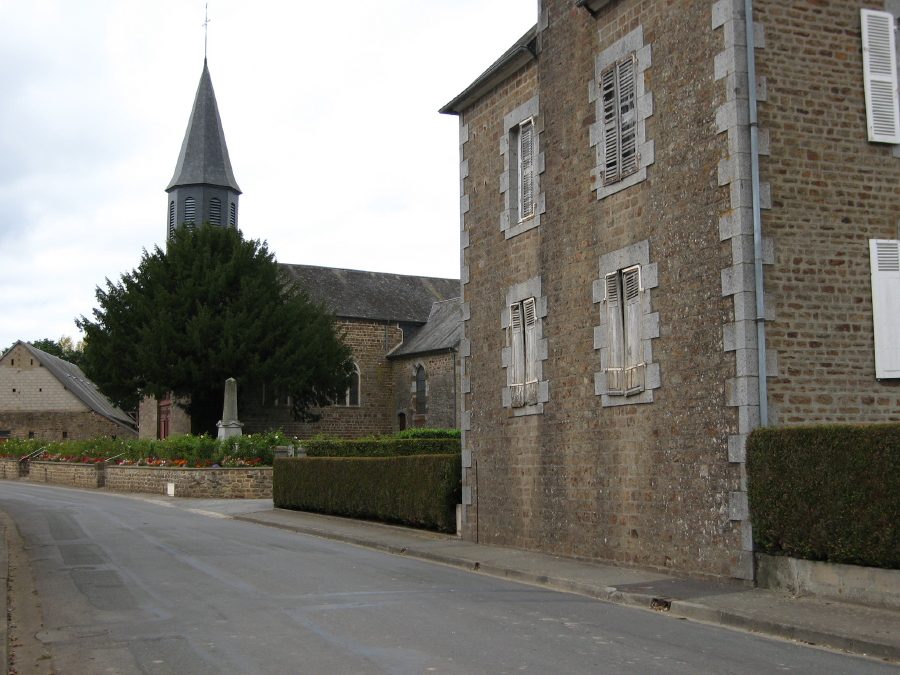 Here's another photo of Torchamps. This is pretty much the whole village.
From here we rode home.
Back to other Normandy pages.
Back to Ceci's home page.