Saint Peter Port, Guernsey, Channel Islands
June 16-17, 2012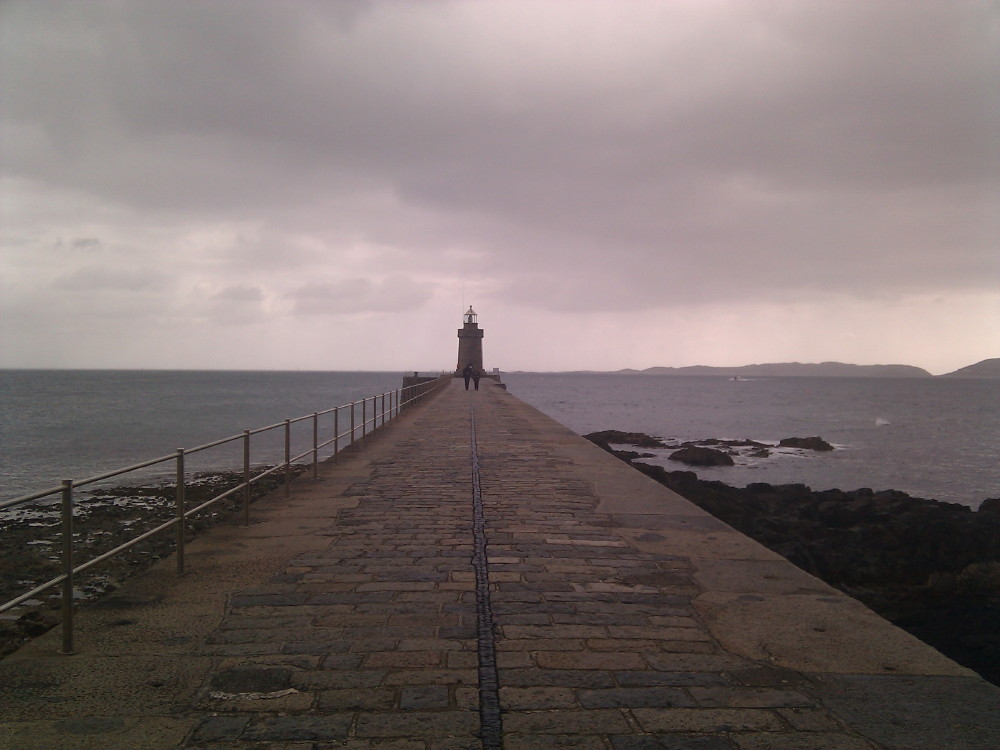 We took the bus from our hotel into St. Peter Port, Guernsey's main town, called "The Town" by locals. The bus dropped us near this pier, so we walked out to the lighthouse.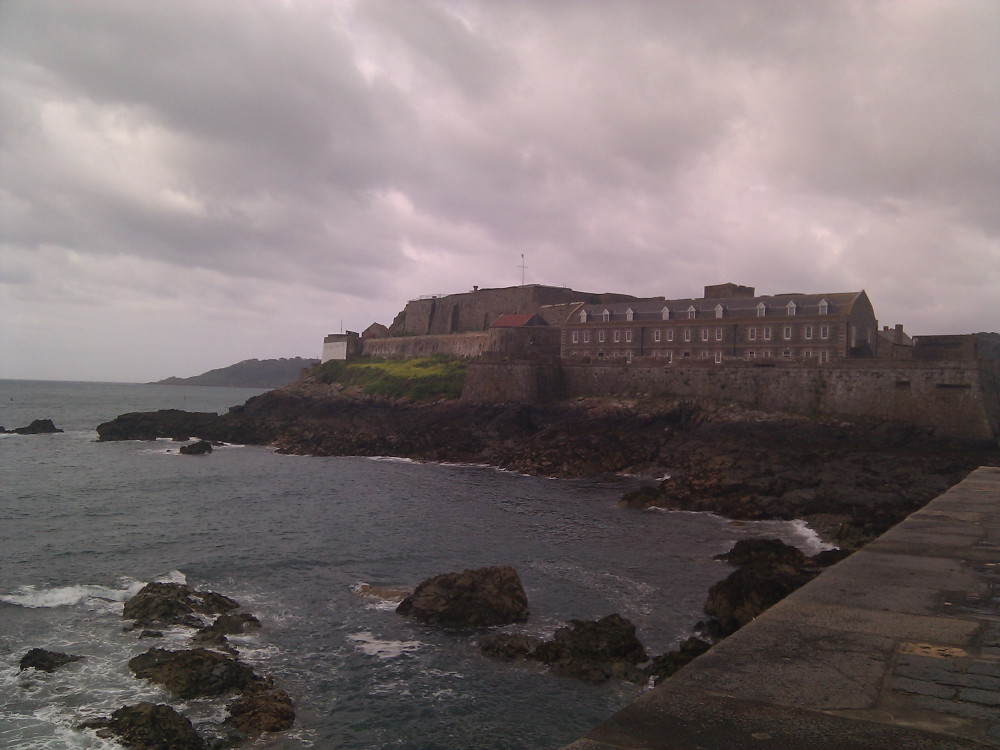 The Castle Cornet lies about half-way out along the pier. It wasn't open yet, so we walked back into town. At this point I was wearing a sweater, rain coat, scarf and rain hat.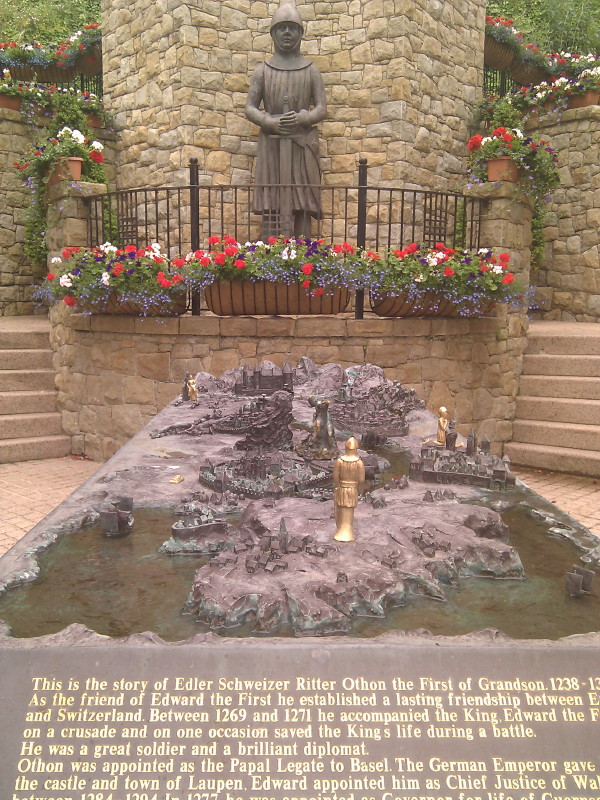 This was an interesting sculpture in the town.
Then we walked up to the Victor Hugo house above the harbor. We were put on the list to tour the house at 11:40. It was 10:30, so we walked up the hill a little further to the Pandora Hotel and asked if we could take tea in the garden. Above you see one of the many pictures I took in this garden. It was lovely. (For pictures of the Victor Hugo house see this page. There were just too many to include them here.)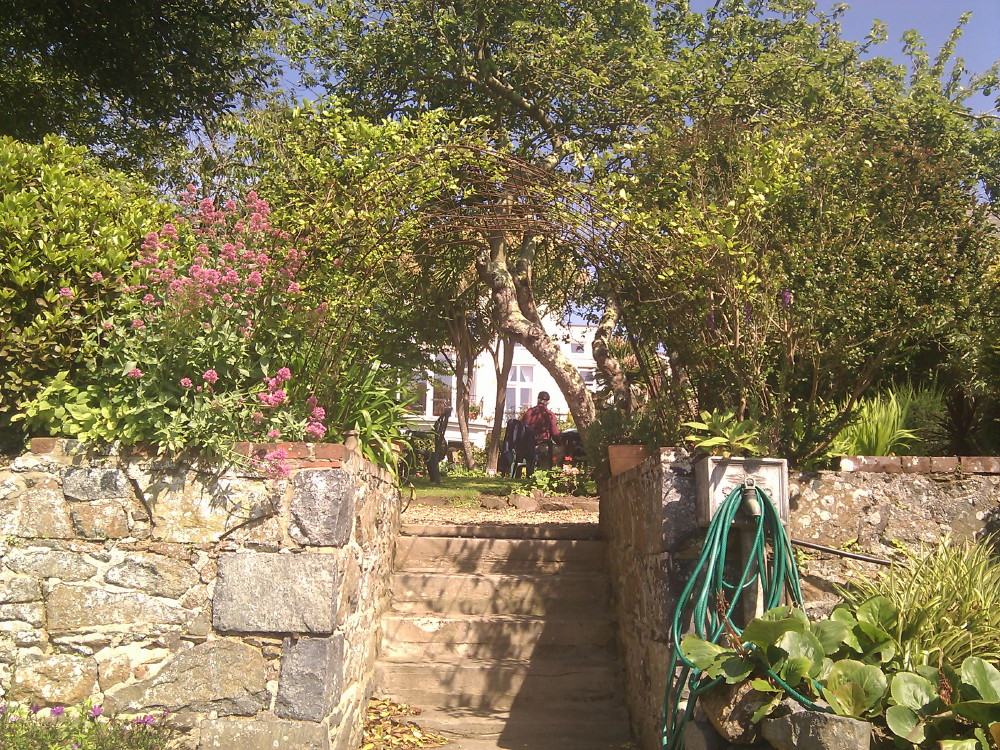 I took this one looking back up to the upper garden level where Jim was sitting. I think you can see how much the weather changed in about an hour.
This was where we had out tea. It was so comfortable here, we sat for half an hour or more. But first I had to explore, so I went through that little archway behind Jim's shoulder.
And after climbing down quite a few steps I came to this spot.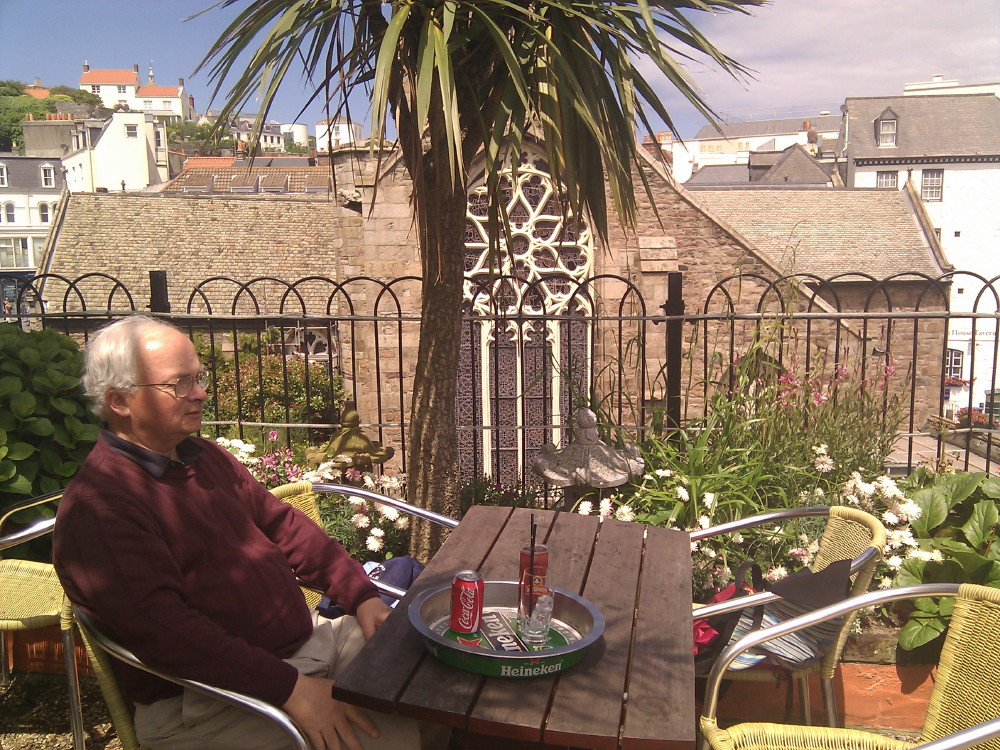 After our tour, we had a light lunch at this charming Oriental restaurant, overlooking the church and harbor and surrounded by flowers and palm trees.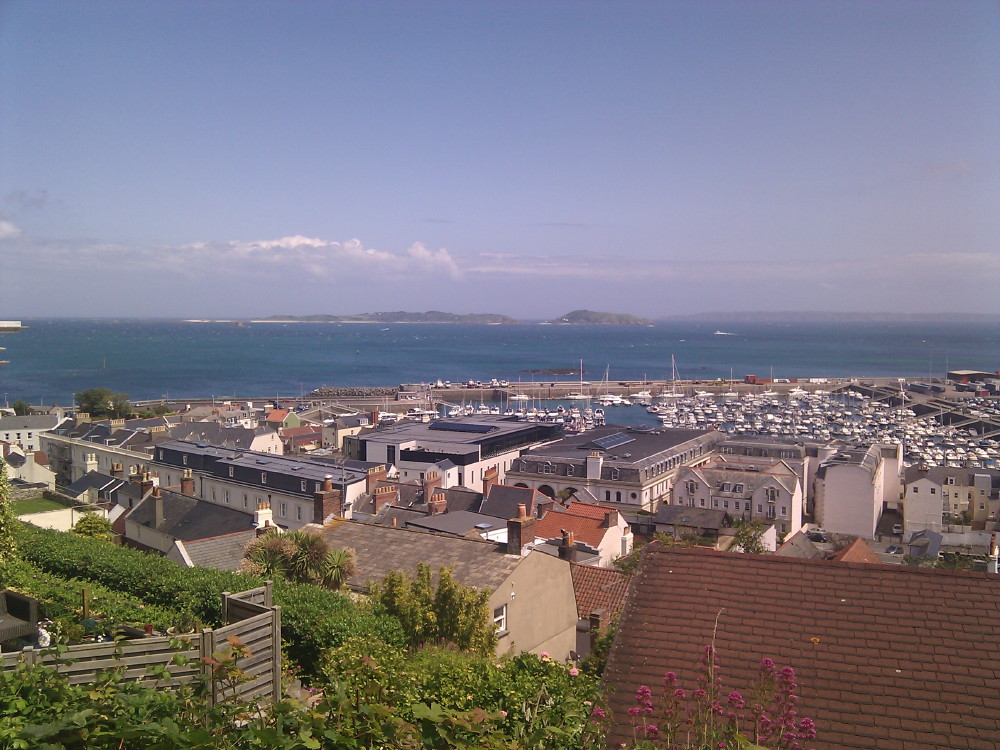 After lunch, we walked up above the town on the northern side of town. The islands in the distance are Herm and Sark, I think, possibly Jersey, which is also in that direction.
This is Victoria Tower, built to commemorate Queen Victoria's visit to the island in 1846.
Down on the waterfront, again, I was struck by these beautiful flower boxes.
So I took a close-up of one of them.
This is the next morning, our last morning here. We drove the car into town, parked it in the rental car return area and walked to town from there. We happened to be just at the finish of the Father's Day Half Marathon as some of the runners were arriving. We had seen them about 2 hours earlier on the other side of the island.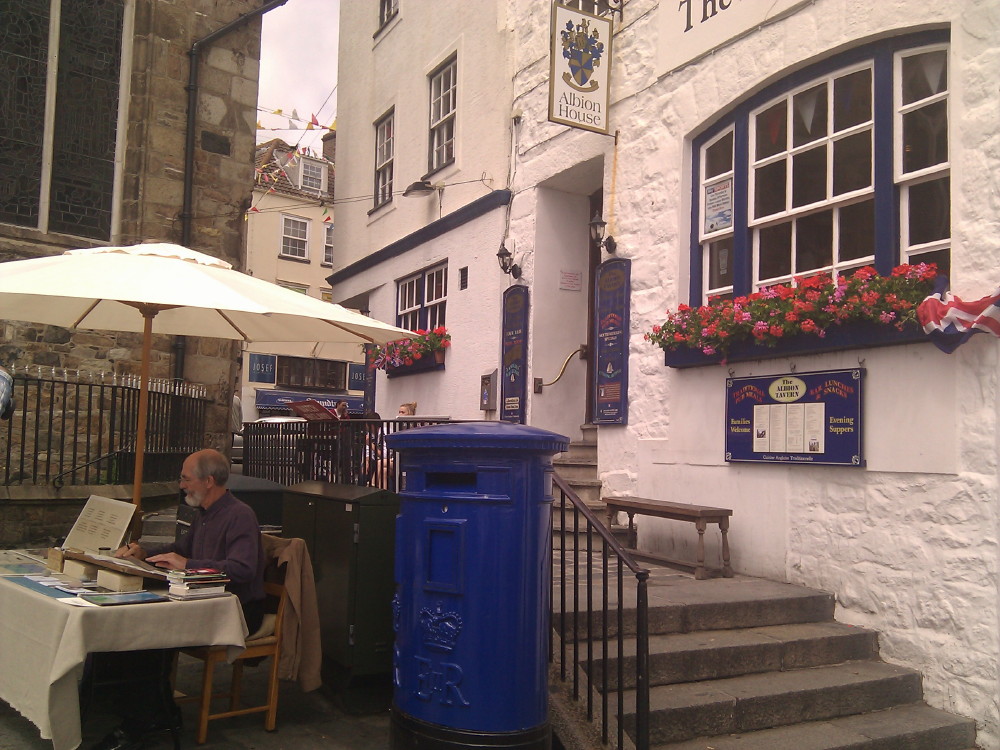 The post boxes on Guernsey are blue!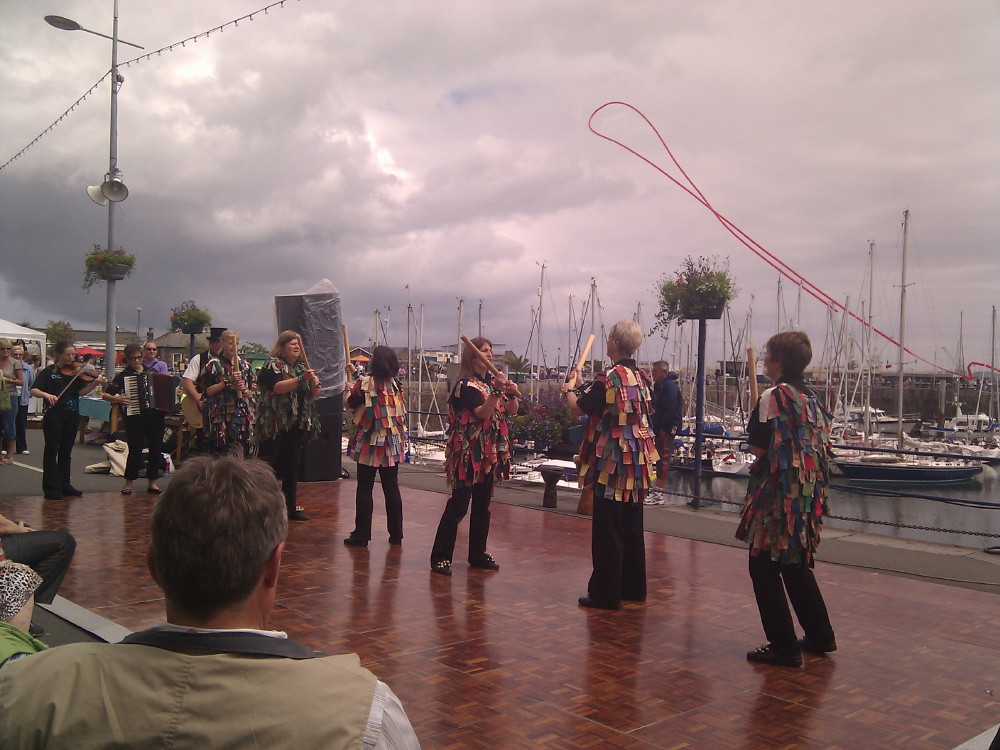 There was and art, music and literature festival going on and some dancing.
It was Sunday and most shops were closed, so away from the waterfront the town was pretty quiet.
We walked down this narrow street to get back to the port. Soon after this we had to head back to the ferry terminal and as we pulled out of town we noticed it was raining again.
Victor Hugo House and Folk Museum